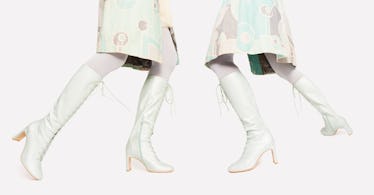 Jeffrey Campbell Is Launching A Size-Inclusive Shoe Collection With A Major Influencer
Body inclusivity is finally starting to gain some real momentum within the fashion world, as clothing brands are starting to expand their sizing offerings to make their pieces accessible to a wider audience. And now, a major footwear retailer is following suit. Jeffrey Campbell's size-inclusive shoe collection is on its way to ensure all women will be able to shop the cult favorite brand, and it's being designed by none other than model, Instagram it-girl (she boasts 70.6 thousand followers), and body positivity queen, La'shaunae Steward.
As Steward explained to Teen Vogue, "I usually just shop mainly at thrift stores to find extraordinary plus size pieces because you rarely see cute things in my size. It's like companies are fatphobic in a way when it comes to plus size clothing because most of the stuff they create is old lady themed in nature and covers everything. I don't want to die in a 90-degree summer with only thick and oversized stuff and that's all these companies make for us."
And so, Steward is taking things into her own hands by designing a five-piece capsule footwear collection with Jeffrey Campbell, which the brand announced via Instagram earlier this week. "We are so incredibly happy to announce that in a few weeks, we will be launching our campaign and capsule collection with one of our favorite people, @luhshawnay. 5 shoes made to fit your every curve. When we say our shoes are made for everybody we truly mean everyBODY. Stay tuned," the post is captioned.
While details regarding the collection's drop date and overall aesthetic have yet to be revealed, if I had to guess, I'd say it's going to include some awesomely playful styles. Steward's own personal style is fearless, bold, and rebellious — I highly recommend you check it out on her Instagram page. As described to Teen Vogue by the fashion maven herself, "I'm probably a bigger outfit repeater than Lizzie McGuire. I love cow print — despite being dragged for being a big girl and apparently not supposed to wear cow print. My style is broke with an expensive taste meets 'why doesn't this come in size fat?' meets kind of high fashion meets early 00's fashion."
As for how the upcoming footwear collection came to be? "My great friend Sanam Sindh is the creative director for the brand," Steward explained to Refinery 29. "I was telling her how a lot of the boots don't fit thicker legs, and as my friend — who knows how the fashion world doesn't celebrate fat brown women enough — she saw this as an opportunity for me, an under-appreciated curve model!" And thus, the idea for the capsule collection was born.
But Steward sees this as much more than an opportunity to flex her design chops. It's also a platform from which she can express how imperative it is that brands and the fashion industry as a whole continue to embrace the body positivity movement until it's truly — truly — inclusive. There's still a long way to go. As Teen Vogue points out, only 30 plus-size models were cast during the 2018 international fashion weeks that have happened, which is clearly pitiful. "[I want to see] girls who actually look like me in high-fashion and walking the runways," Steward told Refinery 29. "Representation is so important. So many models are glamazons who are 5'7 or taller. They have small waists and perfect thighs. [For plus-size models, they're] a size 16 at the biggest. And these are the women 'representing' all fat women. I'm 5'3 and bigger, [and I] also deserve the spotlight!"
Hell yes! Thankfully, she's getting it.