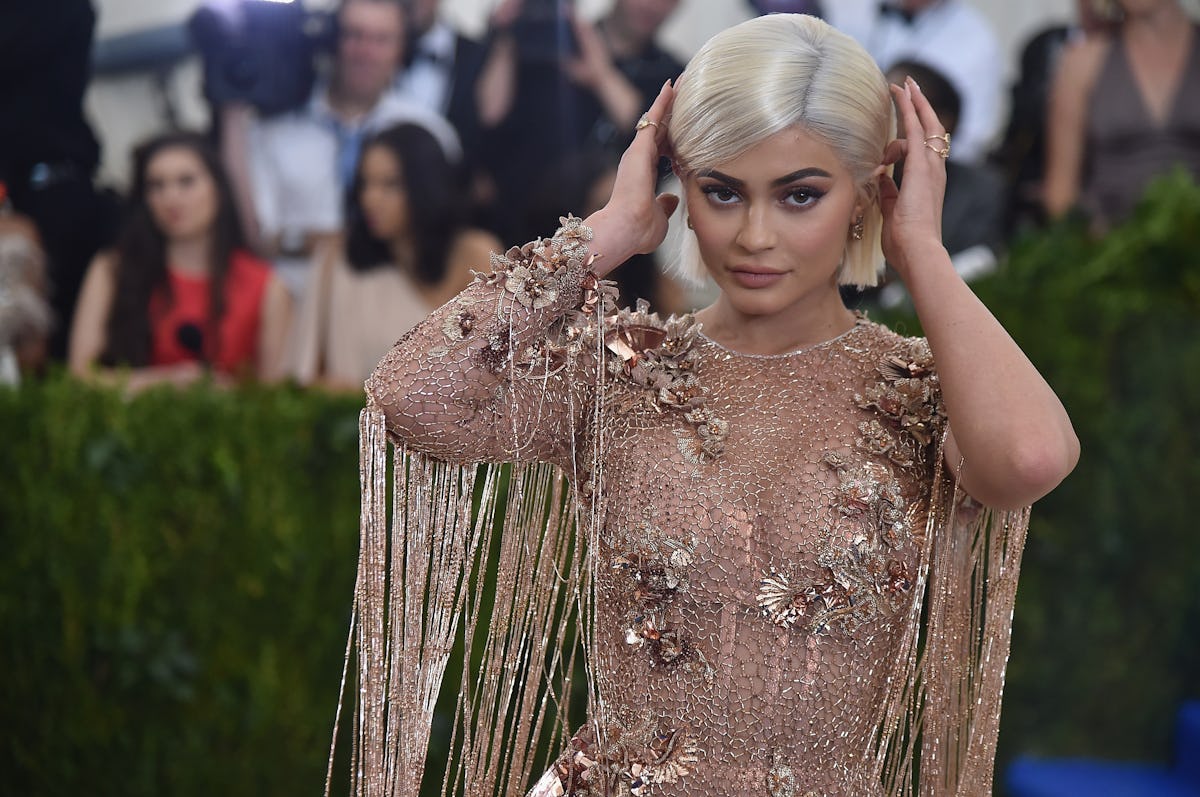 Jeffree Star Calls Out Kylie Jenner's Holiday Collection On Twitter & It's Intense
Theo Wargo/Getty Images Entertainment/Getty Images
Things are getting pretty heated on Twitter thanks to makeup artist Jeffree Star. And this is no small, toasty fire, either, guys — this is some next-level drama that's brewing. Star has always been candid about his thoughts on Kylie Jenner's makeup line in the past, but the two have always managed to keep things civil despite the beef they have with each other's makeup opinions. But it seems like he's out for blood once more, because Jeffree Star's tweets about Kylie Jenner's holiday collection are actually brutal, particularly calling out Jenner's costly new brushes and her supposed copy-cat packaging on her collection's liquid lipsticks.
In case you didn't know, Kylie Cosmetics released a Silver Series of 16 luxury makeup brushes on Dec. 7, including tools like a soft, fluffy powder brush and a very necessary-looking tapered blending brush. If I'm being honest, the set looks pretty dazzling. But what's not dazzling is the price, because the tag you'd be looking at for all 16 brushes is $360, and how can anyone afford that when I don't even have the spare change to splurge on a large soda at Auntie Anne's Pretzels?
Many fans were quick to call out the exorbitant price tag:
And Kylie responded, saying that she always "fights for the lowest price" on her products and that she "hears" her fans:
Many people would have taken those tweets and been appreciative. She's trying to give her products the best quality at the lowest possible cost, even though it's not technically "low," so maybe we should all just throw her a bone and call it a day?
Nope! No sir, not if you're Jeffree Star.
He took to Twitter and ranted his perfectly contoured little heart out, calling out how "dumbfounded" he was over the high prices for Kylie Cosmetics' brushes.
Oh my, can someone say sassy?
And if you think that Star stopped there on the bash-train, LOL, he most certainly did not.
In a tweet that has since been deleted, someone captured a screenshot of Star accusing Jenner of imitating his lipstick packaging, which shows that he's airing all of his dirty laundry. The tweet supposedly read:
I gotta know ONE THING... With all that f*cking money she's made, why did @kyliecosmetics use the SAME PACKAGING as my liquid lipsticks that have been out since 2014? Invest and make something different maybe?
Don't mind me, just trying not to pass out from all this heat.
Still, Jeffree ended things in a very "but that's none of my business" sort of way, saying that he's not "bothered" or "worried."
Is this a feud that Jeffree and Kylie can overcome?
In the past, the two have been very hot and cold. There was the time that Jeffree Star announced Kylie's three new Lip Kits before she had the chance to.
And that time when Jeffree reviewed Kylie's new lip gloss line and said he was "disappointed" in the product and that the wand was simply "unacceptable."
To which Kylie then posted a video to her Instagram to explain that the next shipment of lip kits will have all new wands...
...to which Jeffree Star passive-aggressively clapped back:
If there's one thing this teaches anyone, it's clearly to not get in Jeffree Star's way when he's on a Twitter warpath.
Kylie has yet to respond to any of Jeffree's recent tweets, but I hope that she addresses the tweets with kindness, generosity, and understanding. What? It can happen! There are such things as holiday miracles, you know.
So I guess for now we'll see if Kylie will let this feud fizzle out, or if she'll go head-to-head with the makeup artist herself, defending her (very expensive) turf.