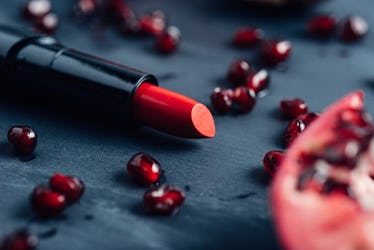 This Instagram Star's Famous Lip Art Actually Has An Incredible Emotional Backstory
Gabriel (Gabi) Bucataru / Stocksy
In a post-Kardashian world, every millennial thinks they have what it takes to go viral, but few consider what that online fame actually looks like in a person's daily life. In Elite Daily's new series, Life Behind The Likes, we speak with the people you know on the internet — from the people behind major Instagram accounts to the Daaaaamn Daniels of the world who went viral for one remarkable moment of their lives — to meet the people behind the screens.
The life of an Instagram star can seem impossibly glam from the outside. Especially if the star in question is Jazmina Daniel: a 26-year-old Los Angeles based makeup artist and all-around gorgeous person known for her amazing lip art. No matter how good with makeup you are, you probably can't do what she's doing.
Daniel, who uses the Instagram handle @missjazminad, has 1.2 million followers, and fans follow her for the stunning lip art looks she puts together. Her looks range from the classic — matte colors with a crisp line perfect for a night out — to the artistic, with renditions of movie and book characters, psychedelic patterns, landscapes, and more. Her looks are intricate, dramatic, and just plain stunning, and her life behind the scenes is equally fascinating.
To have people say that I've inspired them, or my work inspires them creatively has really been an amazing feeling.
Daniel's route to artistic excellence started from a bad place. Daniel, who is Australian by birth, tells me in an interview for Elite Daily she first got into lip art as a way to cope and pass the time while she was being treated for a brain tumor and out of school for a year at 14. Her first attempt at lip art was simple: the scenery she saw outside her window at home. She says with a laugh that her first try was "a bit of a mess." But she kept working at it, and, obviously, she's gotten a lot better.
Daniel started sharing tips and tutorials on Instagram around 2012, and the first piece of lip art she shared was of an ice cream cone. "And I just kept sharing it from then on," she says. It took off, with some help. In 2016, BuzzFeed featured her on their site, and her followers exploded, quickly hitting the 1 million mark. She says she woke up the day after BuzzFeed featured her to find over 100 emails and her comments full of praise and press requests. "I had celebrities sharing me, like Jennifer Lopez, Britney Spears, and it was crazy," she reminisces. "I still can't believe it!" But the biggest thing was feeling appreciated as an artist and knowing "that people were responding well to my art," she says.
Daniel, who was working as a makeup artist in Australia at the time, had a minor freakout when she went viral. Naturally, the first thing she did was run to her mom for advice. "I was like, 'Oh my God, all these people are contacting me and I don't know what's going on, and I've doubled my following.' It was insane," she says.
Since then, social media has been a full-time job. She says she works on her Instagram an average of 10 hours a day. "There's been some days when I've woken up at 8 and finish up at, like, 3 in the morning," she says.
"People expect influencers and social media personalities to have really easy jobs," she tells me. "But it's a 9-to-5 job. Even longer, some nights. I'm up all night trying to get images over to a company, or videos."
But it pays her bills — which is huge for her. Daniel has partnerships with makeup brands like CoverGirl, for whom she provides insight into trends, and she frequently promotes products on her IG posts, tagging brands and recommending products by name. But she's selective about what companies she'll work with.
"I'm always getting offers from companies to post for them or use their makeup," she says. "And sometimes I just don't like their product, or I don't believe for what their company stands for. And I'll choose not to work with them. It's important to remain true to yourself."
The time she spends creating and photographing looks can take anywhere from 30 minutes to a mind-boggling 6 hours. Considering how intricate some of these lip looks are, it begs the question — what happens if you mess up? "I have to start over again," Daniel laughs. "That's usually why it takes so long!" Sometimes, she says, she has to start over four or five times. At that point, she says, "I'm like, 'Ugh, I don't want to do it anymore! I don't want to do it!' But I just keep pushing through, and eventually it works out."
The look that was the biggest pain, she says, was her version of the Grinch which she did for Christmas 2017. "Everything was almost OK, but then to try to get his face, and his body, that was a real struggle." It took her four tries to get that one right.
One of the other most time-consuming parts of maintaining her Insta is engaging with fans. For each post — and she generally does one a day — she spends at least half an hour replying to comments. "I just feel bad not to!" she says. The sheer volume of the comments means it can be a big task. "Even sometimes when I'm in bed, before I go to sleep, I try to get on that photo I posted that day and reply to people," she admits.
The key to her account's success, though, is consistency. "It's important to be posting every day," she says. She doesn't want her fans to get annoyed that she hasn't posted in awhile, or to stop looking for her latest update. And, she continues, it's important to keep it up even when she's not feeling particularly creative "to keep that flow going."
"To have people say that I've inspired them, or my work inspires them creatively has really been an amazing feeling," she says. On the other hand, the internet is still the internet. "People can be, obviously, nasty and not very nice," she admits. But she doesn't take it too much to heart. "I think that there's no stopping people like that," she says.
As long as you feel happy with what you're doing and how you feel about yourself, I feel like nothing can stop you.
It's also a balance of figuring out what to share of her private life. Some of her posts feature her fiancée, Karla, who helps her with the photography. When her fiancée popped the question in December 2017, Daniel shared it on her account. The engagement announcement got more than 2,000 comments and over 100,000 likes.
Fans are invested in her relationship. "I've noticed if I don't post [about Karla] for a while, people will DM me and say, 'Did you break up, I hope you didn't break up!'" Daniel says. "I like to share it with my followers because I know they're wondering... and if I don't post anything, they'll ask," she laughs. While she finds it "nice" that people are interested in her personal life, ultimately, she calls herself more of a private person. "I just mostly like sharing my art and big moments, and stuff like that, instead of sharing everything," she says.
Daniel promotes body positivity and self-love in her posts, but she admits it was something of a journey, despite how glam she looks in her photos.
"Since I went viral I'd been very critical of myself," she says. She wouldn't post images that she thought were somehow off — whether it was a lip art that she didn't think was perfect, or a selfie where she didn't look "nice." But in the past year, things have changed. "I sort of got tired of feeling that way," she says. "I've gotten to a point where I don't really care what people think. 2017 was really my year to love myself more, regardless of what people think."
Her advice for others builds on what she's learned. "The most important thing is to just do what makes you happy, and try not to worry about what people think," she recommends. "As long as you feel happy with what you're doing and how you feel about yourself, I feel like nothing can stop you."
When I ask if she thinks she'll be a makeup star and social media influencer for the rest of her life, Daniel hesitates. "I'll always love doing makeup and anything that's to do with makeup," she says. She thinks she'll always be working with makeup — but Instagram? Who knows. Down the road, she'd like to branch out. She says, "See what the future brings, I guess."