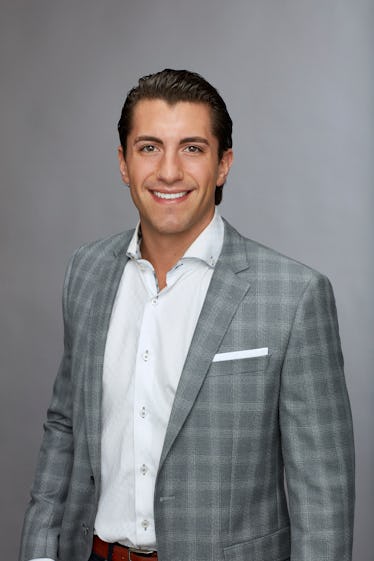 Jason Tartick's Reaction To Colton Being The Bachelor Is So Bromantic
ABC/Chris Sjodin
Whether you're into the choice or not, Colton Underwood is America's next Bachelor. One guy who could have hard feelings about the decision is definitely Jason Tartick. The Bachelorette Season 14 third runner-up was a top pick for the coveted gig. But don't worry about him — he's cool with the news and is even wishing his old competitor well. Jason Tartick's reaction to Colton being The Bachelor just reminds fans why he became a fan-favorite.
"Colton is a brother to me, and I find genuine excitement in his successes and his journey to happiness," Jason shared on text message, via Buffalo News.
He additionally thanked Buffalonians around the country for their support. Jason is a Buffalo native — he discussed his affection for the city on the show during his hometown date there — although he currently resides in the Seattle area.
And Jason isn't disappointed with how his journey unfolded. He's got nothing but good things to say about his experience and is finding a silver lining in how it all played out. The 29-year-old corporate banker explained,
I'm searching for my one and I found love in a place I wasn't expecting it. Because of that, I was really looking forward to a journey in which I believed I could find my one. Unfortunately, that journey didn't come to fruition. I'm still so thankful for the show, the relationships I have made and the position it has put me in mentally to find my person.
Jason also hit up Instagram to endorse his buddy Colton following Good Morning America's Sept. 4 announcement confirming the next Bachelor leading man.
"To have great friends you have to be a great friend. @coltonunderwood is a class act, generous man, and a hell of friend. So happy for you brotha! Let the Bachelor Party Planning commence! #TheBachelor," he captioned a pic of the two of them.
After his gut-wrenching Bachelorette elimination, Jason remarked to People that he would be open to considering the Bachelor position if offered, considering his "very single" status. Even his ex Becca was rooting for him to get the job.
"I have a soft spot for Jason," the Bachelorette revealed to GMA. "I think he's so charismatic, he would be so open to all of the girls on the journey."
Tia Booth, Colton's fizzled BiP flame, was apparently another Jason fan despite her close connection to Underwood.
"I vote Jason for Bachelor," she told Entertainment Tonight when asked if she felt Colton was ready to take on the pressure-filled Bachelor role.
Jason seems fine with the Bachelor opportunity passing him by and he's not the only Bachelorette cast-off with a positive attitude about the whole thing. Blake Horstmann, Becca's runner-up, even took to social media to wish Colton luck on his next reality TV endeavor.
"I have nothing but respect for these two and I wanna wish @coltonunderwood luck on his Journey. I really truly hope you find the woman you wanna spend your life with! Good luck man! #thebachelor," he wrote on Instagram, captioning a photo of him, Jason, and Colton.
It looks like these former castmates have got nothing for love for Colton's upcoming Bachelor stint, even if Bachelor Nation's opinions are mixed.