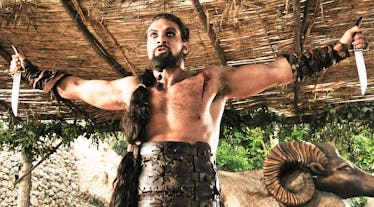 Jason Momoa Was Almost A Marvel Villain & Khaleesi Would Not Have Approved
HBO
One of the most prominent panels for this weekend at San Diego Comic-Con will be the DC Extended Universe. Not only will they be bringing the cast of the highly anticipated Wonder Woman 2, but they'll also be hyping Aquaman, the first major film release since Justice League last November. The star of Aquaman (and one of the biggest things going for it) is Jason Momoa, the man once known as Game of Thrones' Khal Drogo. But Momoa almost wasn't a headliner for the DC comic films. Turns out Jason Momoa was almost a Marvel villain over at DC's rival, the Marvel Cinematic Universe.
When Momoa finished his run on Game of Thrones, he was a recognizable commodity, and he knew it. He's been extraordinarily good at keeping himself in the public eye too, using his Instagram to cheer on Daenerys during the shows run, and teasing any and all visits to the Belfast filming area. But according to him, it was hard at first to get work, because casting directors thought he didn't speak English. (He's Hawaiian, but grew up in Iowa.)
Instead, he wrote, directed and produced his own film, Road to Paloma. That got him a role in The Red Road, which got him noticed.
But DC didn't call first. Marvel did.
Speaking to Entertainment Weekly, Momoa explained that his size made him something of a go-to for superhero auditions.
I met the Russo brothers [who directed Marvel's Captain America: Civil War and Infinity War], who are amazing. It was one of the best meetings I've ever had. I was going to do something with them, which unfortunately didn't work out.
The Russo brothers were in their Captain America phase at that point, with Captain America: Winter Soldier and Captain America: Civil War. But Momoa claims he's not sure what role they were thinking of.
I don't know. It was going to be a villain, I think. People always want to hire me to play a villain, you know? I did an audition for Guardians of the Galaxy, which was super cool. I got to audition with [Chris Pratt], who's just a legend and a gentleman. That didn't work out.
There were two major villains in Guardians. Ronan... and Thanos, who is now the villain in the Russo films. Was it almost Momoa who snapped his fingers?
But that's all something that might have been in another timeline. As Momoa says, it didn't work out.
Instead:
And then really the other one after that was my audition for Batman with Zack. And I almost didn't go because I was like, 'This is bulls–t. I'm not a white guy. I ain't playing Batman.' Even if I do, I don't even want to. It's like an American playing James Bond, you know? I almost didn't do it. I thought for sure I was going to be playing [DC Comics villain] Lobo or something. The only people I knew they were casting for were Batman, Superman, and Wonder Woman — who the hell am I going to play? So in the meeting, I just played it as if Batman had died in an alley and some thug picked up his suit and put it on. I just played him as a smart ass, jaded and sarcastic. And that's when Zack was like, 'I have an idea…'
And the rest, as they say, is history. Aquaman arrives in theaters on Dec. 21, 2018.