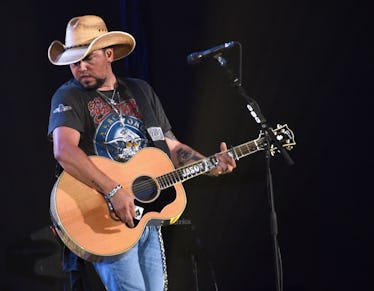 Jason Aldean Cancels Concerts Following Vegas Shooting: "It Is The Right Thing To Do"
Rick Diamond/Getty Images Entertainment/Getty Images
In light of the shooting in Las Vegas on Sunday, Oct. 1, Jason Aldean canceled his upcoming concerts and will be resuming his tour starting next week. The country singer was performing at the Route 91 Harvest music festival when a lone gunman began shooting into the crowd of nearly 22,000 people, killing at least 58 and injuring more than 500. Aldean and his crew were reportedly unharmed. The singer tweeted a statement announcing the canceled concerts on Tuesday, Oct. 3, saying,
As a result of what happened in Las Vegas this week, we have decided to cancel this coming weekend's shows. I feel like out of respect for the victims, their families and our fans, it is the right thing to do. It has been an emotional time for everyone involved this week, so we plan to take some time to mourn the ones we have lost and be close with our family and friends. Our plan is to resume the tour the following week in Tulsa, Oklahoma. Our first time back onstage will be a very tough and emotional thing for us, but we will get through it together and honor the people we lost by doing the only thing we know how to do — play our songs for them. I hope everyone understands why we can't play this weekend and I'm sorry if anyone is disappointed. I want to say thank you for the outpouring of love from my friends and fans we have received over the last couple days. You guys have no idea how much you have helped get us through this tough time. Thank you and God bless.
Aldean responded to the shooting with an emotional Instagram post on Monday, Oct.2.
He said in the post,
Tonight has been beyond horrific. I still dont know what to say but wanted to let everyone know that Me and my Crew are safe. My Thoughts and prayers go out to everyone involved tonight. It hurts my heart that this would happen to anyone who was just coming out to enjoy what should have been a fun night. #heartbroken#stopthehate
He posted another Instagram in honor of the victims on Tuesday, Oct. 3.
He urged for unity in a world that he says makes him fearful to raise his children in. He wrote,
Over the last 24 hrs I have gone through lots of emotions. Fear, Anger, Heartache, Compassion and many others. I truely dont understand why a person would want to take the life of another. Something has changed in this country and in this world lately that is scary to see. This world is becoming the kind of place i am afraid to raise my children in. At the end of the day we arent Democrats or Republicans, Whites or Blacks, Men or Women. We are all humans and we are all Americans and its time to start acting like it and stand together as ONE! That is the only way we will ever get this Country to be better than it has ever been, but we have a long way to go and we have to start now. My heart aches for the Victims and their families of this Senseless act. I am so sorry for the hurt and pain everyone is feeling right now and there are no words i can say to to take that pain away. Just know u all are in my heart and my prayers as we all go through this together. Time to come together and stop the hate! #stopthehate#prayforlasvegas
Aldean is one of the many celebrities who have been calling for an end to these mass shootings. Celebrities like Billy Eichner, Chance the Rapper, Lady Gaga, Harry Styles, Jennifer Lopez, Ariana Grande, Khloé Kardashian, Taylor Swift, the late-night hosts, and more have come out on social media in a show of solidarity for all of those affected by Sunday's senseless shooting.
People have been finding inspiration in the Las Vegas community through the droves of people who went to donation centers to donate blood to the hospitals in desperate need of it.
If you'd like to help those affected but are unable to donate blood, you can donate to the various GoFundMe pages set up to aid the victims and their families or donate to local health centers that are providing aid to the Vegas community.