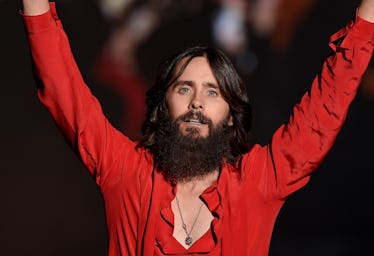 Jared Leto Will Star In A 'Spider-Man' Spinoff, So I Guess The Joker Is Switching Sides
Kevin Winter/Getty Images Entertainment/Getty Images
Compared to the monstrous control Marvel Studios has over superhero films and their trends, it's easy to lose sight of whatever the rival production companies are doing. Although Jared Leto debuted as the Joker in the DC Extended Universe's Suicide Squad in 2016, it seems that he has now given in to the Marvel influence and switched his super villain allegiance. Jared Leto will star in a Spider-Man spinoff, but his new role won't apparently affect his commitment to playing the Joker in future DC Comics films.
Variety reports that Leto will star in the spinoff Morbius, which follows the antihero scientist first introduced in Spider-Man's universe in 1971, Michael Morbius. In Marvel stories, the character was on a quest to find a cure to his own blood disease, but an experiment that goes awry grants him the qualities of a vampire thirsting for blood. Morbius tries to control his new urges by only drinking the blood of criminals, which is quite a different storyline from the Joker's insane antics in Suicide Squad. However, Morbius does have some villainous moments later on, even battling Spider-Man in the original comics.
Working with director Daniel Espinosa for Morbius, Leto was reportedly wary about joining the project before feeling convinced that filmmakers would handle the movie correctly. A meeting between the two men when Leto was touring with his band Thirty Seconds to Mars in Germany eventually led to the finalization of the casting decision.
Morbius isn't the only cinematic villain venture coming up on Leto's filming schedule. Earlier this month, it was announced that Leto would star as the Joker again in a standalone film for the character. The Joker-helmed film will reportedly kick off a series of movies based on the Suicide Squad characters, but, as a source tells Variety, Leto's leading role in it isn't expected to negatively affect the production of Morbius.
As for whether we have a dual Morbius and Joker promotion tour in store for us soon, the theatrical releases of both films are still unclear. Screen Rant reports that Morbius will likely begin its production this year, while the DC movie schedule seems to be in a bit of a lull at the moment. If that timing is correct, Leto won't have any scheduling issues in bringing both of these dark characters to life.
Leto, an Oscar winner for his work in Dallas Buyers Club, gained particular notoriety for reports of his intense method acting while previously portraying the Joker. Such attempts to understand his character, like sending a dead pig to the cast, were a little over-the-top, so who knows what lengths Leto may go to in order to feel connected to Morbius?
At the time of Suicide Squad's release, Leto spoke about the Joker's legacy, referencing Heath Ledger's iconic portrayal of the character in The Dark Knight. He told GQ:
I'm sure that I considered everything when I got the call [to play the Joker]. But let me say a few things. Number one, Heath Ledger: Not only was he perfect as the Joker—perfect. There's not a single frame where he's not great. Not only was he perfect in that role, but it's probably one of the best performances, not just of a villain but maybe one of the best performances on film, period. Period. That's my opinion. And that was my opinion before I got the call. It was a perfect performance, and those are very rare.
When it comes to Morbius, Leto will cover uncharted territory. Apart from the character's appearances in animated series, Morbius hasn't been explored on live-action film or TV, meaning that Leto's portrayal will stick out on its own in coming years. We'll have to wait and see to discover what kind of approach Leto takes in preparing for and carrying out the role.