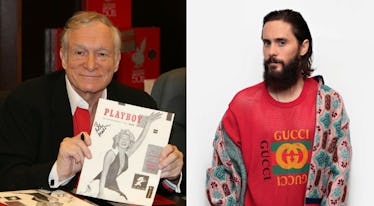 Jared Leto Is Going To Play Hugh Hefner In A New Biopic Because Nothing Matters Anymore
Getty
Look, we all know 2017 has been a dumpster fire of a year, so I guess since the world is already burning around us, why not just cast Jared Leto as Hugh Hefner in a movie? We're all going to die anyway. Nothing matters. Do we think we even deserve good things? No; so instead we'll have to deal with Jared Leto in pajamas and age make-up ogling 20-something blonde women for a whole movie. Yep — Jared Leto will play Hugh Hefner in an upcoming biopic about the late Playboy founder, according to a new report from the Hollywood Reporter.
The as-of-yet untitled biopic has actually been in the works since 2007, with Robert Downey Jr. attached to play Hugh Hefner at one point, but the rights kept bouncing around for the past decade until they finally ended up with director-producer Brett Ratner, who has reportedly been set on directing this movie for years. Now, the movie is in early development, following shortly after Hugh Hefner's death on Sept. 27, 2017 at the age of 91.
Apparently, Jared Leto gunned for the role of Hugh Hefner himself. Brett Ratner told the Hollywood Reporter that Leto is a friend of his, and the actor expressed an interest in the part, saying he wants to "understand" Hefner.
Jared is an old friend. When he heard I got the rights to Hef's story, he told me, 'I want to play him. I want to understand him.' And I really believe Jared can do it. He's one of the great actors of today.
Leto and Ratner both went to a party at the Playboy mansion earlier this year in April around Hefner's 91st birthday, but due to Hefner's failing health at the time, the legendary magazine editor was not receiving guests, so Leto was unable to actually meet the man he'll be portraying face-to-face.
Jared Leto has become known for taking on extreme, unpredictable roles in recent years. He won an Oscar for playing a trans woman with HIV named Rayon in 2013's Dallas Buyers Club, and most recently went mad as the psychotic villain The Joker in Suicide Squad. Leto is also famously a method actor, whose unsettling off-set antics as The Joker went a little too far for some of this castmates. I wonder what Leto-as-Hefner will get up to while filming this new movie.
For his part, Brett Ratner is best known for directing action movies, including the Rush Hour trilogy, X-Men: The Last Stand, and Hercules. In addition, he was an executive producer on the long-running Fox series Prison Break, and directs several pop music videos for artists like Mariah Carey, Madonna, and Miley Cyrus. A biopic seems to be new ground for the director and producer.
This news comes just days after it was announced Hugh Hefner died at the age of 91 on Sept. 27. He reportedly died of a cardiac arrest while at the Playboy mansion. Hefner was famous for launching the controversial magazine Playboy in 1953, which was (and still is) notable for featuring nude and semi-nude photographs of female models and celebrities. After gaining success as the editor-in-chief of Playboy, Hefner bought a giant mansion in Los Angeles and became known for throwing extravagant themed parties as well as living with multiple models featured in his magazine, which were much younger than he was. Despite his old age in recent years, Hefner kept up his signature exorbitant lifestyle to the end.
And now, I guess we'll be seeing Jared Leto's take on the late magazine editor's expensive, promiscuous, strange life. I guess if someone's going to go full Hefner, why not Leto?