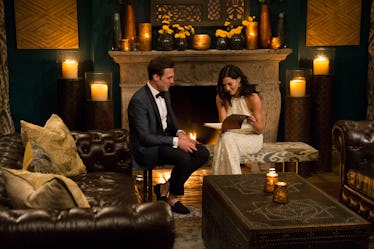 Jake's Poem For Becca On 'The Bachelorette' Is Honestly The Cutest Thing On Reality TV
ABC
The Bachelor Nation trope of casting a contestant from the lead's past has become a practically inevitable tradition in the show's most recent seasons, and Becca Kufrin's season of The Bachelorette was no exception. While her predecessor Rachel Lindsay had a throwback contestant who traced all the way back to childhood, Becca's connection to her acquantaince was a little less clear. She sent Jake Enyeart from Minneapolis home before the rose ceremony because she doubted his intentions of being there, but Jake apparently gave Becca a gift before he left. Jake's poem for Becca on The Bachelorette is actually very sweet, and I may be hoping for him to pop up on Bachelor in Paradise after hearing him read it.
The 29-year-old marketing consultant didn't exactly receive the best edit on the show, insisting that he only had one recollection of meeting Becca while she claimed they had met several times beforehand. She ultimately sent him home because she didn't trust his reasons for being there, and Jake's post-elimination defense of himself led to quite a rise in GIFs capturing his astonished outrage. If you have to be one of those guys who is cut on Night One and you're not Grocery Store Joe, you should at least become a meme, right?
ABC may not have treated his image in the best way, but Jake has seemingly redeemed himself in an interview with the Here to Make Friends podcast, which is known for its feminist critique of the Bachelor franchise. On the podcast, Jake tried to clarify his past connection to Becca, but more importantly, he revealed that he had written a poem to read to Becca on the first night of filming. The footage of his impromptu reading didn't make it onto the show, but Jake shared the exact poem on the podcast, saying that he gifted Becca with a personalized leather notebook she could use for journaling throughout the show. The poem read:
Rebecca Jill, can't believe I had to travel 2,000 miles to meet the woman next door / But I have a feeling it's worth the wait / I already know we have a lot in common / so I'm just going to be me / and the rest is up to fate / Could this be the true Minnesota Miracle? / I hope it's just a matter of time / Because I'll be your prince if you want to party like it's 1999 / You're a woman with looks to kill / Though there's so much more that meets the eye / But I want to know it's your realness that hits me / so if you're looking for a true partner / then I just might be your guy
It's not exactly Shakespeare, but not every guy will fess up to writing a poem for a woman he barely knows. I also won't turn down a nice notebook if it's offered to me, but despite Jake's explanation of his past with Becca on the podcast, I'm still not entirely sold on his claim of being as clueless about her as he insisted he was.
According to Jake, his "conscious recollection" of Becca comes from seeing her at a Christmas party this past year, when she was secretly engaged to Arie. In the podcast clip, Jake said that he recognized her from TV, but seeing as Arie's list of women was revealed in early December and The Bachelor didn't premiere until New Year's Day, Becca wouldn't have even appeared on TV yet. Did that many of her general acquaintances catch on to her Bachelor role before the season even aired? His story is still a little fishy to me.
Regardless of his background, I'll definitely applaud Jake for his creative outreach to Becca. Here's hoping that you have better luck with your poems next time, Jake!
The Bachelorette returns on Tuesday, June 12, at 8 p.m. ET on ABC.