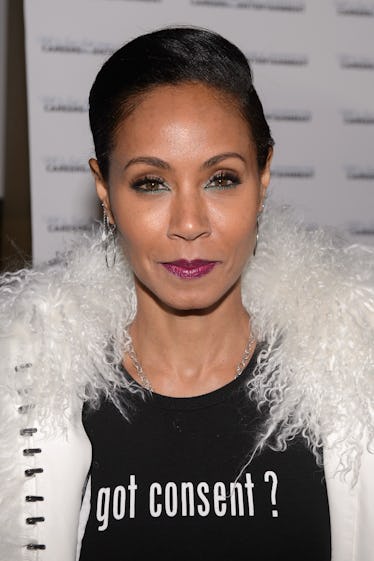 The Way Jada Pinkett Smith Learned About "Self-Pleasuring" Is So Nontraditional
Daniel Boczarski/Getty Images Entertainment/Getty Images
Who was the first person to teach you about sex? Was it your BFF? Was it your health teacher? Was it your high school boyfriend? Was it your mom? Was it your OBGYN? For me, it was none of the above. I actually learned about sex from a joke a boy told in middle school. I put two and two together. It wasn't until *much* later in life that I learned about self pleasuring from coworkers at an internship. That leaves me way behind Jada Pinkett Smith. How, you ask? Well, Jada Pinkett Smith learned about masturbation from her grandma at the ripe age of nine.
I know, I know, I know... that sentence was a lot to take in so let's unpack this for a minute. First and foremost, there's the fact that she learned about masturbation at such a young age (nine!). To be fair, I went to Catholic school, where we were basically not taught anything having to do with sexuality so I have no real gauge as to when normal people were taught about masturbation — but that seems V young. That being said, I'm not hating at all. As someone who learned these things later in life, I really think learning things nice and young is the way to go.
Then, there's the fact that the person who taught her about masturbation was her GRANDMA. Like, seriously. You thought your sex talk with your mom was awkward? Imagine having that same conversation with your grandma.
On June 11, Pinkett Smith recalled the nontraditional story for an episode of her Facebook Watch show, Red Table Talk.
"My grandmother taught me about self-pleasuring because she wanted me to know that that pleasure was from me," Pinkett Smith, 46, told her mom, Adrienne Banfield-Jones, and daughter, Willow Smith. "She didn't want me to fall into the hands of a man — and if he gave me pleasure, to think that that was him. And she taught me at nine!"
Is it just me or is Jada Pinkett Smith's grandma officially the coolest grandma of all time? Not just me? Yeah, didn't think so.
Despite the fact that her grandma gave her this gift at such a young age, Pinkett Smith admitted to her mother and daughter that she still found herself struggling with her "own sexuality."
But, as time went on, she started finding herself ~sexually~. In fact, by age 21 she was even giving herself "multiple orgasms."
"I've had a lot of experience with sex toys … I think by your age, I gave myself multiples first. Multiple orgasms," she explained to Willow's friend Telana Lynum, 21. "I was really into it at one point, just because I was in an exploration state and I was abstaining from men."
She was pleasuring herself so often that she wound up getting obsessed with her routine. "I actually think I went through kind of an addiction, too, with it," she continued. "And then one day, I was just like, 'Enough. You're having five orgasms a day.' You get addicted 'cause you can create so much pleasure. You just constantly want it."
During the interview, she also gave some advice regarding intercourse. "Just wait till you find that person that you care about," she advised.
Pinkett Smith found that special someone in her spouse of almost 21 years, Will Smith and their daughter learned the hard way that her parents still have a very passionate love life.
Willow revealed on the show that her first introduction to sex was walking in on her mom and dad boinking in Colorado.
"I think it was in Aspen," she recalled to her shocked mother. "I was going downstairs to get some juice and I saw for a little moment and I ran away. I was like, 'Oh, my God. This is so crazy. What did I just see?' But it wasn't like I was seeing everything. The room was dark. … [I felt like] I overstepped a boundary."
If you're sitting there feeling uncomfortable about just how open the Smith family seems to be about their sex lives, Pinkett Smith puts it this way:
People are like, 'oh do you think that's appropriate for Willow?' I'm like, 'Hell, yeah, that's appropriate for Willow.' Is it life? If I have to sit up here and tell her that she has to be careful in these streets because of all the harms that may come to her because she's a young woman, I'm damn sure not leaving out the good stuff.
Here's to the Smiths officially being one of the most open families of, like, all time.
Watch the entire episode for yourself below!
Check out the entire Gen Why series and other videos on Facebook and the Bustle app across Apple TV, Roku, and Amazon Fire TV.
Check out the "Best of Elite Daily" stream in the Bustle App for more stories just like this!