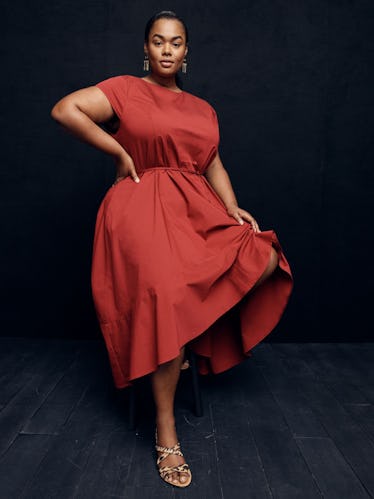 J. Crew's New Range Of Plus-Size Clothing Is As Good As You'd Hope It Would Be
J. Crew
One of America's most well-loved brand of basics is finally catching up with the times and introducing a range of clothing that will cater to a more inclusive customer base. J. Crew plus-size clothing is here at long last and it's not just aesthetically ace but is also being executed in a smart and quality way. This isn't another case of a brand introducing plus-size offerings without doing their research simply to appease customers and make headlines for being progressive or inclusive. Rather, J. Crew teamed up with existing plus-size brand Universal Standard to ensure their venture into expanded sizing will be done under an expert eye. Smart business, indeed.
The capsule collection features an array of items typical to the J. Crew aesthetic including striped tees, monochromatic jumpsuits, button-up cardigans, simply cut dresses, and more. It's the stuff that effortless cool is made of and can be mixed and matched at your leisure. If you're preemptively lamenting the collection selling out or the end of the brand collaboration, fear not. As Refinery29 writes, "this is more than your average one-off clothing collection. The Universal Standard for J.Crew collaboration has set itself up as more of a partnership; a lesson in how brands can effectively segue into extended sizing when they lack the experience of adapting to the fit and approach in designing for plus size women." In other words, this won't be the last collection J. Crew does in partnership with Universal Standard—it's only the beginning.
As J. Crew's Merchandising Officer, Lisa Greenwald, explained to Refinery29, "We recognized Universal Standard's highly technical approach, and we love their style, so they were natural partners to help us create a collection tailored for the real, diverse spectrum of American women. We wanted to create a collection of stylish, well-made, great-fitting clothes, engineered to fit the new range of sizes perfectly and Universal Standard offered their expertise to do just that."
Earlier this year, Madewell, which is owned by J. Crew, launched a line of denim styles available in sizes 25-35. Although it got some major flack for not labeling the jeans true to their actual size—publications called the brand out for labeling size 12 jeans as size 20—it was a step in the right direction, even if a flawed one. Perhaps that hiccup is what spurred J. Crew to partner up with Universal Standard in the first place, causing them to realize their utter lack of experience within the plus-size clothing realm.
As one spokesperson told Refinery29, the partnership is only the first step in, "J.Crew Group's larger dedication to inclusivity and effort to reinvent their standard of fit to reflect the real, diverse spectrum of the customer." Greenwald elaborated on the statement, adding, "We recognize our platform as a mainstream American brand and feel proud to have the responsibility and the privilege to do more for our customers...That's why this collection and our extended sizing will be integrated into J.Crew's main assortment as opposed to a standalone "plus" category."
Take a look at a few of the best pieces from the new offering below.
LBD, But Make It Casual
The perfect piece to wear with a bralette for a night out or a tee for a more casual look. Comfy cool at its best.
Fine Lines
You can never go wrong with a simple striped dress and this one features an exaggerated ruffled hemline to add a bit of design elevation.
Track Star
Track pants were 2017's street style phenomenon. Are track skirts next?
Jump Street
I want to live in this relaxed fit jumpsuit. If paired with cool feathered flats and a beaded clutch, it could also be the perfect look for a night out.
All Tied Up
Another striped item, this dress features a but more structure and a more intricate pattern. A belt adds definition around its waist while its sleeves slightly balloon out at the ends.