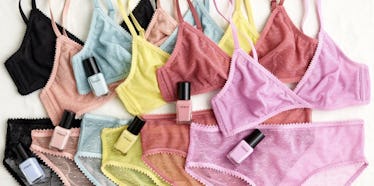 J. Crew Just Launched Lingerie With Matching Nail Polish & The Cuteness Is All Under $40
J.Crew
When it comes to buying bras and underwear, Urban Outfitters has always been my go-to. I have a small chest, so their triangle bras are the perfect combo of comfy and supportive, and their lace thongs gracefully sit on your body without creating uncomfortable bulges. However, another purveyor of masterful basics is getting in on the unmentionables game: J. Crew lingerie has just arrived, and it might just give my prior favorite styles a run for their money.
Admittedly, I was not a huge fan of J. Crew until a handful of years ago, when I realized that their basics and swimwear are actually amazing. The denim is excellent quality and is always offered in trendy silhouettes, their tees are also well-made and come in simple but versatile prints, and their bikinis and one-pieces are all I want to wear on the beach. (I love the variety of unique silhouettes they offer and the prints are always on point.) The older I get, the more I find myself seeking out chic and quality staple pieces, which is exactly what J. Crew nails.
And now, J.Crew has added lingerie to its repertoire, and the pieces are even better than I would have imagined. Available in five different fabrics including a dotted mesh and soft cotton, they've created a range of bra and underwear styles to accommodate your perfect fit. There's the Plunge V-Neck bra, which has a wide, comfortable band and is mean t to wear with low-cut tops; the Underwire Bra, which provides a little lift and is void of lining and padding; the French Bralette, which has boning for soft structure and side-boob preventative wings; and the Underwire Balconette, which features removable straps and slip-proof silicone trim, as well as demi-cut cups for extra lift.
According to J. Crew's website, the brand "consulted with fit experts to create styles that are comfy and still supportive (thanks to details like underwire and boning for structure)."
French Bralette in Tiny Cherries, $32, J. Crew
Point D'esprit Hipster, $14.50, J. Crew
Each piece does look super flexible, minimal, and soft, which is key for me when it comes to my bras and underwear. I love nothing more than running around in solely my skivvies, so when they're cute and feel like wearable clouds, I am sold. Bottoms — which appear to come in at least three styles including Thong, Bikini, and Hipster — are offered up to a size XL, while bras reach size XXL. The best part hands down is that each piece in the collection will cost you under $40, with some only costing $12.50. If you compare that to other lingerie brands that charge upwards of $90 for a single bra, it's a great deal.
French Bralette in Striped Microfiber, $32, J. Crew
Striped thong in microfiber, $14.50, J. Crew
As a so-cheesy-it's-cute additive, J. Crew also partnered with vegan nail polish brand, Veque, to create non-toxic, custom polish to match the colors found within the new collection. It's cheeky to think that by stripping down to your bra and underwear, you'll get a coordinated head-to-fingertip look. There are six main hues in the collection, which range from a robin's egg blue to a sunny yellow to a pinkish berry; each have a polish to match. Along with the staple shades, the lingerie comes in a few more playful prints, including standard cheetah, blue and white stripes, and — my favorite — lilac printed with tiny little cherries. (It's literally the cutest bra and panty set I have ever seen and I want it on my body immediately.)
I'm excited to see how the fit and feel compares to my Urban Outfitters favorites, but honestly, J. Crew has kind of already won me over with the lingerie selection. Even if no one is actually seeing what's underneath my clothes, I know what's there, and if I love it, it gives me a secret source of sexy confidence.