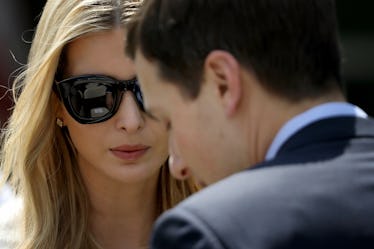 Ivanka Trump Was Feeling Some Type Of Way About "Trolls" & Let Twitter Know It
Win McNamee/Getty Images News/Getty Images
Ivanka Trump did something unusual. The first daughter and White House adviser posted a series of tweets on Tuesday morning, May 29, seemingly hinting at a few unnamed people. Considering some other factors (that I'll get to later), it seemed pretty obvious that Ivanka Trump's tweet about "trolls" showed she was feeling some type of way after Memorial Day weekend.
The series of tweets started with a quote from The Meditations of Marcus Aurelius, who was an emperor of ancient Rome.
"If thou workest at what is before thee, following right reason seriously, vigorously, calmly, without allowing anything to distract thee. If thou holdest to this, expecting nothing, fearing nothing, but satisfied with thy present activity according to nature... thou wilt live happy. And there is no man who will be able to prevent this," Ivanka tweeted, quoting the former ruler.
Trump then added in a third tweet, "Focus on what is before you, on what you can control and ignore the trolls! Have a great week!"
The series of tweets appears to be the quintessential example of subtweeting, directing a message at a group of people who are not explicitly referenced said message.
Here's what Trump had to say:
Now, there's no way of knowing exactly why Ivanka Trump tweeted what she did, but we can take a pretty good guess what what she considers people "trolling" her.
Over Memorial Day Weekend, Trump posted a picture with her son, Theodore. The picture, and the reaction to it on social media, was enough to spark a controversial news story, with some criticizing the first daughter for tone deafness.
MSNBC host Joy Ann Reid tweeted, "You'd almost never know her father's administration, to which she is an adviser, was brutally separating migrant children from their asylum-seeking parents and lost track of 1,500 of them."
Actor Patton Oswalt made a similar remark, albeit sarcastically. "Isn't it the just the best to snuggle your little one — knowing exactly where they are, safe in your arms? It's the best," Oswalt tweeted. "The BEST. Right, Ivanka? Right?"
Reid and Oswalt were alluding to a series of news reports about President Donald Trump's immigration policies and how those policies affect children from other countries. Among those reports was news that a government official from the Department of Health and Human Services (HHS) told Congress that the federal government "lost track of" about 1,500 migrant children who had been placed in the hands of adult sponsors. A subsequent report from The New York Times stated that the children being unaccounted was likely the result of sponsors not responding to government inquiry.
That news came weeks after the attorney general, Jess Sessions, publicly discussed the administration's "zero tolerance" policy on illegal immigration, which he said would result in a separation of families at the southern border.
"I have put into place a zero tolerance for illegal entry on our southwest border. If you cross the border unlawfully, then we will prosecute you. It's that simple, Sessions said, while speaking at press conference in San Diego earlier in May.
Sessions added, "If you smuggle illegal aliens across our border, then we will prosecute you. If you are smuggling a child, then we will prosecute you. And that child maybe separated from you as required by law."
Safe to say, the policies of the administration, and the amount of criticism it has gotten, played a part in Trump's photo with her son drawing even more criticism for the White House adviser.
Ivanka Trump very obviously noticed the criticism and had a clear response: Ignore the trolls.