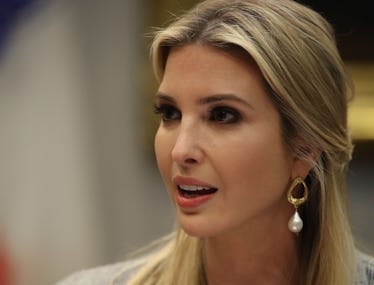 Ivanka Trump Is Taking Sides In The White House Bunny Book Wars
Mark Wilson/Getty Images News/Getty Images
The saga of the two bunny books is still going strong, and I am totally here for it. First, Vice President Mike Pence's daughter, Charlotte Pence, penned Marlon Bundo's A Day in the Life of The Vice President, a book about the White House from the perspective of the Pence family's pet bunny, Marlon Bundo (good name). Then, Last Week Tonight host John Oliver released a parody version titled A Day in the Life of Marlon Bundo — which did a similar thing, just with a gay bunny protagonist as a way to criticize Pence's stance on LGBTQ+ rights. It's the war of the battling bunny books — and now, Ivanka Trump's tweet about a Marlon Bundo book is taking a clear side in this epic battle.
Like many parents, Trump tucks her kids into bed with a bedtime story, judging by a tweet she sent out the night of Monday, March 26. The tweet featured a photo of her son, Joseph Kushner, in his pajamas holding up a book. Which book, you ask? A copy of Marlon Bundo's A Day in the Life of The Vice President, of course.
The tweet mentioned the vice president's daughter Charlotte and expressed how excited Trump and her son were to read all about a day in the life of the Pence bunny. Or as he is more formally known: Bunny of the United States (BOTUS). The caption reads,
Tonight's bedtime story, courtesy of @charlipence! We can't wait to read about a day in the life of #MarlonBundo! #BOTUS
Marlon Bundo's A Day in the Life of The Vice President was released on March 19, and written by Pence's daughter and illustrated by his wife, Karen Pence. The book follows the real-life BOTUS as he tags along with the vice president through a normal day in the White House. A portion of the proceeds go to A21, an anti-human-trafficking organization, and to the Riley Hospital for Children, in Indianapolis, according to The New Yorker. Which is all very sweet on its own.
On the other hand, the book's attempt to humanize Pence, who is a controversial figure not least because of his troubling views on LGBTQ rights, rubbed some people the wrong way. During a segment of Last Week Tonight on March 18, Oliver talked about the upcoming release of Marlon Bundo's A Day in the Life of the Vice President. Oliver admitted he really likes Marlon Bundo, but after learning that anti-LGBTQ organization Focus on the Family was a stop on the book tour, he announced that he would be releasing his own bunny book... at that very moment on March 18 (a day earlier than the Pence book). Oliver said,
There's even going to be a book tour. And I would love to say, 'Fine, it's a fun sweet book about a rabbit, who gives a sh*t,' but unfortunately one of the stops on that book tour is at Focus on the F*cking Family. So congratulations, Pence, you even managed to ruin Marlon Bundo. Now none of us can enjoy a book about your rabbit. Or can we?
Oliver dropped the news of his own bunny book written by comedy writer Jill Twiss and illustrated by EG Keller — the proceeds for which will go to The Trevor Project, an organization that advocates for homeless LGBTQ youth. A Day in the Life of Marlon Bundo follows BOTUS as he falls in love with another boy bunny. Oliver said,
Our story is about Marlon Bundo falling in love with another boy rabbit, because our Marlon Bundo is gay, just like the real Marlon Bundo.
As of March 26, Oliver's bunny book is number one overall on Amazon's best sellers list, not just out of the children's books. In comparison, the Pence book is at number 21. Oliver's book also took the number one spot on Barnes & Noble's website, while Charlotte Pence's is at number 40, according to HuffPost.
A spokesperson for Regnery, the publisher of the Pence book, found it "unfortunate" that Oliver felt the need to turn a children's book into partisan issue. The spokesperson told CNN,
It's unfortunate that anyone would feel the need to ridicule an educational children's book and turn it into something controversial and partisan. Our and Mrs. and Charlotte Pence's goal is — and will continue to be — to educate young readers about the important role of the vice president, as well as to highlight the charities to which portions of the book proceeds will be donated.
On the other hand, author Charlotte did not seem mad at all about Oliver parodying her book. "We have two books that are giving to charities that are about bunnies, so I'm all for it really," she told Fox Business on March 20.
At the end of the day, like Charlotte said, both books give money to charity, but one isn't stopping at an anti-LGBTQ orginization. You pick your own side in the bunny wars.