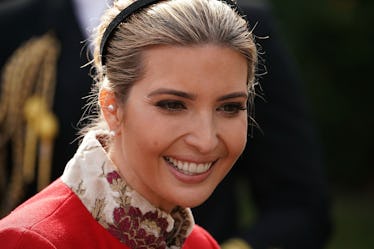 Ivanka Trump's Instagram Best Nine Is Missing Something Kind Of Important
Chip Somodevilla/Getty Images News/Getty Images
Ah, December. A time for year-in-review lists. Best ofs, top 10s, most bizarre moments. And who among us has not fallen for Instagram's Best Nine feature? A collection of your nine most-liked posts, it gives you a visual map, of sorts, of who you were for the past year. Which is why Ivanka Trump's Instagram Best Nine is missing something kiiiind of important. What am I talking about? Oh, just the fact that she's a White House official.
If you go to 2017BestNine.com/IvankaTrump, you'll see the nine most-liked Instagram posts Trump posted this year. And you'll probably notice a lack of anything that would hint at the fact that she is a high-ranking government official. In fact, it's almost like you'd never know she's special assistant to her father, President Donald Trump, if you looked at her Instagram Best Nine.
Nope, not one hint of her controversial father-president. You know the one: he's got that dismal approval rating and tweets a lot. Anyways, if you only had access to Instagram's Best Nine due to, oh, I don't know, a new, stratified internet, no one could blame you if you had no idea that Trump is a high-ranking official in close proximity to the highest office in the land.
Because her best nine has a clear theme: family. All nine photos — which netted more than 36 million likes — feature either her husband, fellow special adviser and assistant to the president Jared Kushner, or their three kids. Sometimes both. And at least three gowns. If you were to look at her best nine and guess what she does for a living, you'd be forgiven for thinking she's some kind of wealthy lifestyle blogger located someplace like Dallas.
I mean, take a look at this.
Here she is, in a nice pressed dress and heels, sitting an American Psycho-level clean living room with pillows creased in just the right way like an HGTV show. The photo shows her hanging out with her youngest, Theodore, who is either playing with or was placed in front of blocks apparently teaching him Mandarin characters.
That screams lifestyle blogger to me. It could be on Gwenyth Paltrow's Goop, it's so have-it-all-of-course-we-don't-have-help.
Another one of her Best Nine is this cute one where she's cuddling her four year old son, Joseph. This one is more realistic, as Trump is letting her hair down, both literally and figuratively, looking sleepy and make-up free and just plain pleased to be posing with her kid.
But again, zero hint that she has anything to do with American politics.
The caption for this one is "Peak-a-boo." (It's peek-a-boo, but A for effort?)
There was also her post on Oct. 25, Trump posted a throwback to her 2009 wedding day in honor of her eighth anniversary with Kushner. Who among us wouldn't do that? An eighth anniversary is something to brag about (and so is that dress). But a photo from your wedding album is about as apolitical as it gets.
To be fair, however, one of her most-liked posts is a shot from when she and husband Kushner danced at her father's inauguration. That was a political post, but unless you knew where she was dancing (and, once again, wearing that killer gown), you'd never know it had to do with politics.
And granted, there are plenty of photos on Trump's Instagram account that reveal (kind of) what she does (or doesn't do). She — or her communications person — posts all manner of pictures of her posing at the White House, hanging out with Cabinet members, representing her father-president both domestically and abroad. But apparently, those weren't the ones people liked best.
So maybe what her best nine tells us is that not only is she family-oriented, but that the people who follow her on Instagram really don't care or want anything to do with Trump's political career. And I gotta say, I can't help but agree.