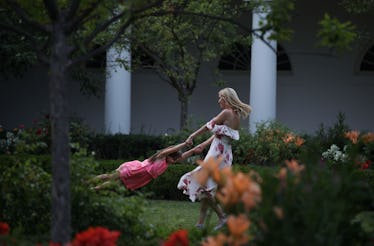 Ivanka Trump's Daughter Wrote Her An Adorably Hilarious Birthday Note
Alex Wong/Getty Images News/Getty Images
Birthdays can get overwhelming. Between throwing a party and searching for gifts, the occasion oftentimes feels exhausting... or just straight-up confusing if you're a kid — just ask the president's granddaughter. Ivanka Trump tweeted Arabella's birthday note, and obviously the little lady didn't get the memo that it's mom's big day.
Oct. 30 is Trump's birthday, yet her 6-year-old daughter seems to believe it's time to celebrate her own arrival on the planet. Trump took to Twitter to share a photo of her daughter's handiwork. She wrote, "Arabella: Dear Mom, thank you for giving me birth. Clearly, I'm not the only member of my family who doesn't understand how birthdays work." The note is decorated with hearts and what appear to be s-like shapes. Little Arabella made a slight mistake and carefully crossed it out. At least the thought is there, right?
To mark the occasion, Trump was thrown a surprise dinner at her father's hotel in Washington, D.C. on Oct 28. Her husband, Jared Kushner, of course, was in attendance, though he had just returned from an unannounced trip to Saudi Arabia. President Donald Trump and the first lady also made an appearance at the evening get-together.
Though everyone's well wishes are all fine and dandy, nothing can compete with little Arabella's birthday card — it's just too adorable (even if it's incorrect).
Ivanka might be in celebration mode, but things took a serious turn on her 36th birthday. Paul Manafort and Rick Gates were charged in the Trump Russia investigation on Oct. 30, so it's likely going to put a damper on any festivities. ABC tweeted that Manafort — Trump's former campaign manager — and Gates — who worked for Manafort's international firm and spearheaded the Republican Nation Convention in July 2016 — are facing 12 charges. The official Justice Department documents have been released, showing that among the charges are counts of conspiracy against the U.S. and money laundering.
In light of this news — and Ivanka's birthday tweet — people on social media had a field day.
Twitter users really began honing in on the news, and hashtags such as #ManafortMonday and #IndictmentMonday began to trend. So it looks like #MondayMotivation got a bit lost in the shuffle. People were waiting for this moment, and now that it's here, no one is fooling around with the hashtags and commentary.
Meanwhile, President Trump had a Twitter field day of his own. On Sunday, Oct. 29, he began the morning by declaring the Russia investigation a "witch hunt for evil politics." Have a look at his firestorm of tweets.
He did comment on the news via Twitter on Oct. 30, but chose to focus on the Democrats instead of the charges. Trump wrote the following:
Despite the president's statements, footage did capture Paul Manafort turning himself in... while Trump was commenting on Fox and Friends
Manafort and Gates certainly have a controversial past. In and around August 2016, news spread that Manafort had worked for former Ukrainian President Viktor F. Yanukovych, who supported Russia and Vladimir Putin. Gates, however, was a mentee of Manafort. Speculation didn't stop last year. In August 2017, it was reported that the FBI raided Manafort's Virginia home earlier in the summer. A spokesperson for Manafort said in a statement to ABC News,
FBI agents executed a search warrant at one of Mr. Manafort's residences. Mr. Manafort has consistently cooperated with law enforcement and other serious inquiries and did so on this occasion as well.
Now the day has come. It looks like Ivanka's 36th birthday is definitely going to be a memorable one.