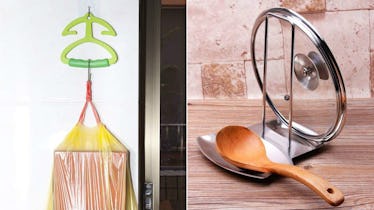 It Seems Like Everyone's Buying These 55 Clever AF Things On Amazon
When products go viral, it can be for so many reasons: a catchy slogan, a glowing review, and sometimes — when you're really lucky — a clever use. If you're anything like me, those items cause major FOMO when everyone else is buying them. But thankfully, this list is full of clever AF things from Amazon that you can add to your shopping cart, too.
Lately, it seems like people can't get enough of those magnetic eyelashes and overnight acne spot healers. Scroll through social media on any given day, and you're almost guaranteed to see ads, influencers, and friends alike singing their praises. (Don't worry, they made the list and you can easily give them a try.) But what about those home gadgets that make life simpler? I'm talking about the LED lights that sense when it gets dark, and the device that turns any old toilet into one with a bidet. You can also add those to your home.
If you see a product that you want, then go ahead and get it — because it seems like everyone else is doing the same thing (which means those selections are probably worth trying). I mean, a clever item that's super popular won't go to waste, right?
We only recommend products we love and that we think you will, too. We may receive a portion of sales from products purchased from this article, which was written by our Commerce team.