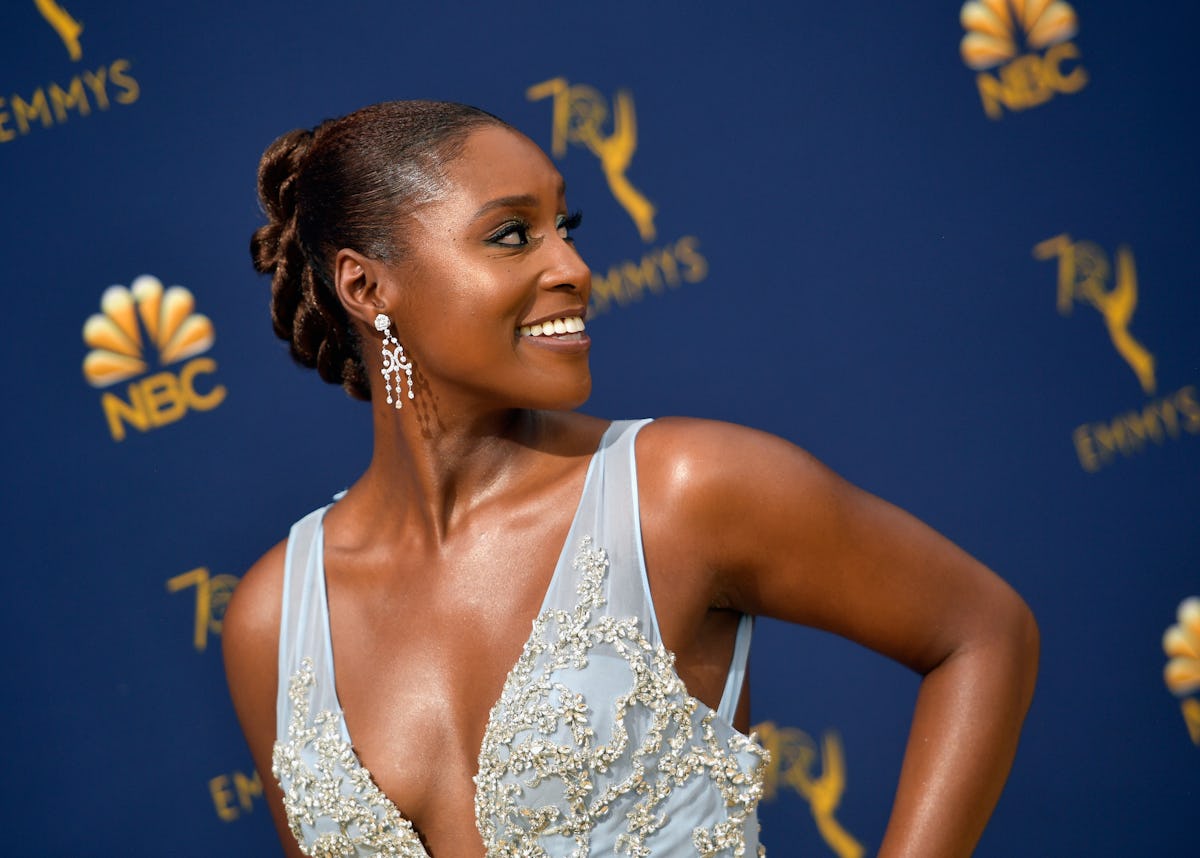 Get Ready 'Insecure' Fans, Issa Rae Is Starring In A New Rom-Com
Matt Winkelmeyer/Getty Images Entertainment/Getty Images
Issa Rae is ready to make her cinematic rom-com debut. The Insecure co-creator just signed on to headline an upcoming film, and it sounds like it might just be be my new favorite movie. Issa Rae is starring in American Princess, which according to The Hollywood Reporter, "centers on an American woman who moves to London, where she's drawn into a world of wealth and high society and falls in love in a very unexpected way." Paul Feig (Bridesmaids, A Simple Favor) is set to produce and Stella Meghie (Everything, Everything) will direct.
Falls in love in an unexpected way? That opens a lot of romantic comedy doors. What kind of unexpected are we talking here? Doesn't really matter, to be honest – a rom-com featuring a talent like endearing comedic talent like Issa with Paul Feig's participation is enough promise enough for me. Here's my money now, Hollywood!
Issa's career has skyrocketed since her hit series Insecure debuted on HBO in 2016. She earned Emmy and Golden Globe nods for her performance, and received an impressive Peabody Award. The third season just wrapped last week and the series was picked up for a fourth last month. She initially gained notiriety for her Shorty Award-winning web series The Mis-Adventures of Awkward Black Girl. Issa is currently starring in The Hate U Give, which hit theaters on Oct. 5. It looks like she's about to embark on an exciting new career chapter.
"There was no blueprint to do this. There was no one I could look to to be like, 'Oh, so-and-so made some videos and then had a television show, and then did movies,'" Issa told Glamour about taking control of her professional destiny in a September interview. "You kind of just do it."
Issa has not only been a champion of diversity and representation through entertainment, she's an industry pioneer. Issa's the second black woman to create and star in her own comedy, following in the footsteps of Wanda Sykes' Wanda at Large.
"Networks haven't outright said no to diversity," Rae has explained. "It's been more trying to convince people that people of color are relatable. It's about the content. That's where my journey has had more ups and downs."
Issa's made groundbreaking waves with Insecure and one of her colleagues on the show, co-producer Amy Aniobi, is set to join her as she continues to transition to film. Aniobi has written episodes of Insecure, 2 Dope Queens, and Trial & Error, but she also penned the script for American Princess.
Issa has cited movies like Love & Basketball and '90s sitcoms like A Different World and Living Single as pop culture inspirations. These days, she's become an inspiration to audiences watching her as she breaks down barriers.
"I just want to have a studio! Just a chance to be able to create, and to finance and to have the ownership of my own content and empower other people to do the same," she's shared, speaking of her future ambitions.
At this rate, Issa's on track to be one of entertainment's most influential heavyhitters. Fans are more than ready for her to take the romantic comedy genre by storm.