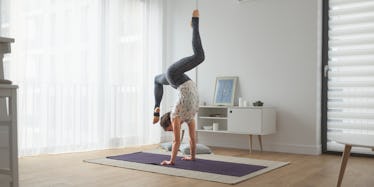 Here's How To Protect Your Wrists During Complex Poses In Your Yoga Flow
One of the most common yoga injuries complained about by beginner yogis and advanced practitioners alike is wrist pain. It's pretty understandable when you think about it, since you're constantly bearing weight on your hands during your time on the mat, which isn't something you typically do in everyday life. But if the discomfort has gotten so bad for you that you're now wondering whether yoga is just bad for your wrists in general, allow me to put your mind at ease.
The short answer is no, yoga isn't bad for your wrists. Yoga is an ancient practice meant to heal your body and mind. Of course, just because it possesses restorative powers, doesn't mean that you can get away with being mindless while bearing weight onto sensitive joints.
Your wrists are a small, but complex body part that include several ligaments and a little joint head that rotates. It's relatively easy to compress the wrist joint when it comes into contact with the bone in your forearm, and the surrounding muscles aren't strong enough. This can leave you more susceptible to injury, especially if your wrists are underused during long hours typing on a keyboard, or overused by improperly executing arm balances during your favorite vinyasa class.
As a yoga teacher, I almost always get one or two people in the room complaining of wrist pain that's exacerbated by frequent downward dogs and chaturangas. (And TBH, I've been one of those people myself!)
But it doesn't have to be this way, my friends. Here are six ways to protect the delicate joints in your wrists every time you step onto your mat, and how to deal with injuries should they arise.