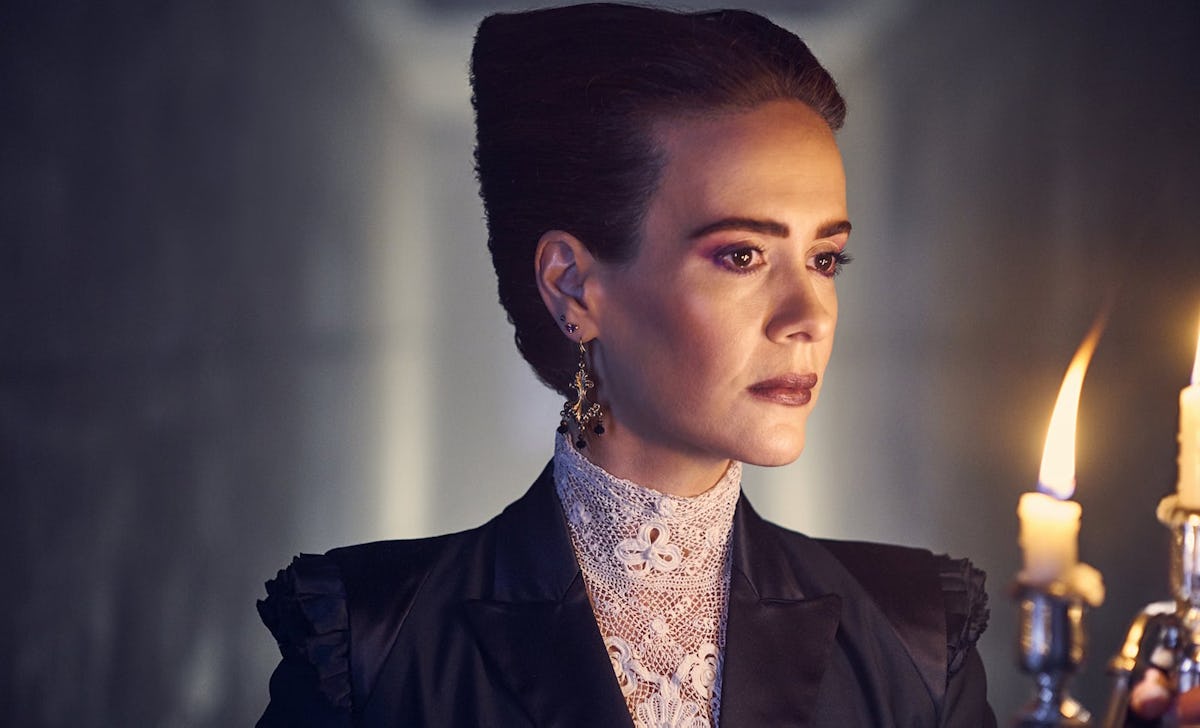 Sarah Paulson Just Broke Her Silence On The Fate Of Her 'AHS: Apocalypse' Character
FX
American Horror Story fans are used to seeing Sarah Paulson jump from character to character in each new season of the anthology series, but the current season is much different. For AHS: Apocalypse, Paulson is playing not one, but three characters. Oh, and her new role is the first time that fans have ever seen her play a straight-up villain on the show. But the villainy may have only lasted for a short time, because Paulson recently gave a final answer to the question, is Wilhemina Venable really dead on AHS: Apocalypse?
Spoiler alert: This post will include plot details from the first four episodes of American Horror Story: Apocalypse. Since she is usually known for delivering epic crying scenes as victims of horrible torture season after season of American Horror Story, Sarah Paulson's new Apocalypse character came as a welcome surprise for fans of the show. The ruthless and severe authoritarian Wilhemina Venable lorded over Outpost 3 with an iron fist, imposing her own rules forbidding sex among occupants and delighting in playing the judge, jury, and executioner for all of the apocalypse's survivors.
But, she appeared to have met her end only three episodes into the new season. After killing everyone in the outpost with a batch of poisoned apples, the antichrist Michael Langdon revealed that Venable's robotic confidante Miriam Mead was actually programmed to be unflinchingly loyal to him, and he ordered her to shoot Venable in the chest, killing her.
Death is rarely permanent in the American Horror Story universe, so although Sarah Paulson is still on the show as her Coven witch Cordelia Goode and also confirmed to bring back her Murder House medium Billie Dean Howard, there was still a chance that Wilhemina Venable could rise from the dead somehow also. Well... at least there was until Paulson confirmed Venable is definitely dead for good while on Jimmy Kimmel Live! over the weekend. When Kimmel asked Paulson about her characters this season, she made it clear that Venable really is no more:
They're all characters from previous seasons. Oh, except for the one I'm playing at the... she's dead now. Sorry, spoiler alert. She took a bullet, and she went down like a ton of bricks.
So, I guess that really was the end of Wilhemina Venable. That reveal that she won't be back is probably pretty surprising for fans, considering that the character seemed to be set up as one of the main stars of Apocalypse, only to die after a couple of episodes. Venable's death came only moments after pretty much all of the rest of the season's main cast also died, but the Coven's arrival resurrected Coco St. Pierre Vanderbilt, Mallory, and Dinah Stevens.
Fans also think that we will see Evie Gallant, Timothy Campbell, and Emily come back somehow later this season, and there were also theories that Venable would come back to life somehow, but Sarah Paulson's statement makes it sounds pretty clear that she is only playing her characters from past seasons from this point on.
American Horror Story: Apocalypse airs Wednesday nights at 10 p.m. ET on FX.