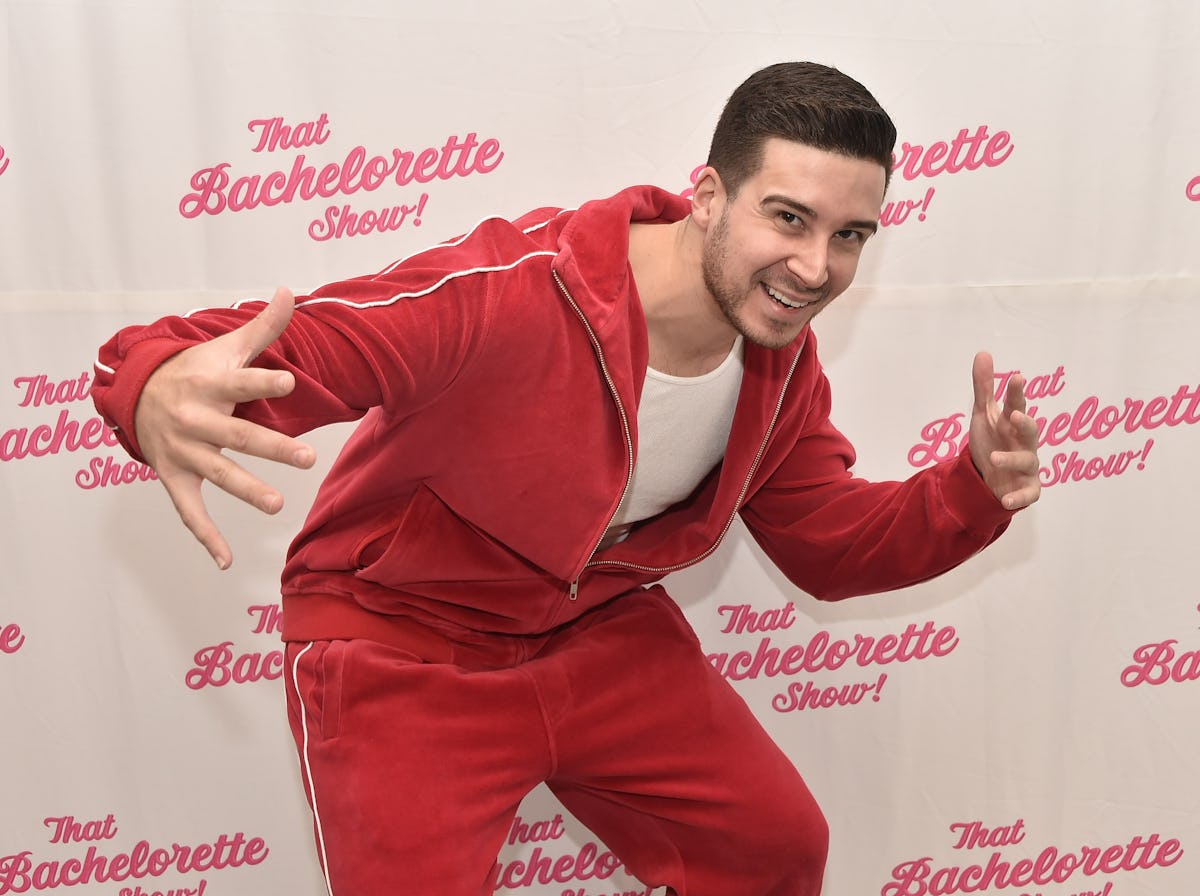 5 Things To Know About Vinny From 'Jersey Shore' In 2017
Theo Wargo/Getty Images Entertainment/Getty Images
For all of the never-ending drama and chaos that made up the Jersey Shore house, MTV's hit reality show did have one voice of reason to help viewers make sense of it all. That was Vinny, the self-described momma's boy who won over Jersey Shore fans everywhere by being... well, the only sane person in that house. Now that Jersey Shore is about to come back to a big reunion series, let's check in on Vinny to see what he's been up to. Like, is Vinny single, or will Jersey Shore Family Vacation include some new romance for him?
From the looks of things, Vinny Guadagnino is going into the new Jersey Shore series single and possibly ready to find love... or at least just a few hook ups. Although he really wasn't sloppily smushing everyone in sight like some of his other castmates back in the day (*ahem* The Situation), Vinny did have a steady string of hook-ups on the original Jersey Shore. Most notably, he had a pretty long on-screen relationship with a woman named Ramona, and also briefly hooked up with housemates Snooki and Angelina at times.
Since Jersey Shore ended in 2012, Vinny dated supermodel Melanie Idlesias for a while. Iglesias used her break as one of Maxim's most popular models to break into the comedy advice series Guy Code and Girl Code on MTV at around the same time the network was also airing Vinny's series Jersey Shore. Guadagnino and Iglesias dated for about two years until 2014 before calling it quits, and it doesn't sound like Vinny has had a long-term relationship since then. That means that we can probably expect the reopening of the smush room on the new Jersey Shore series, right?
I think one thing that a lot of OG Jersey Shore fans are afraid of when it comes to this reunion series is that it might be boring now that half of the cast is married and settled down. Interestingly enough, all of the women from the show are married (except Sammi, who is skipping the reunion series), and most of the men are the single ones. Snooki and JWoww both got married and started families pretty quickly after Jersey Shore ended, and then did a total 180 with their brands and launched a show and lifestyle sites all based on being mothers. The Situation is currently engaged to his college sweetheart and girlfriend of 13 years Lauren Pesce, and Deena just got married a couple months ago. That just leaves DJ Pauly D, Ronnie, and Vinny as the single members of the cast who can spice up the new series.
What Vinny has mostly focused on since his Jersey Shore time is building up his television résumé. He got into acting a bit after his success on reality TV, with guest spots on the reboot of 90210 and MTV's sitcom The Hard Time of RJ Berger, but became more successful as a host and commentator. He hosted his own talk show The Show with Vinny on MTV, in which he invited celebrities to have dinner with his eccentric family in Staten Island, and he most recently launched a Cooking Channel show with his mom called Vinny & Ma Eat America.
Vinny isn't the only Jersey Shore housemate to get more television work since the show. Snooki and JWoww have launched a couple spinoffs together, The Situation took on Dancing With the Stars, and both DJ Pauly D and Ronnie temporarily found love on Famously Single. But I think we are all most excited to see them all actually back on the same show again. Jersey Shore Family Vacation will premiere sometime in 2018.