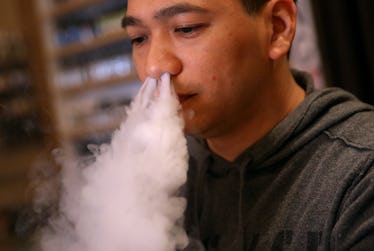 This New Study Will Totally Change How You Think About Vaping
Justin Sullivan/Getty Images News/Getty Images
The rise of e-cigarettes is a fairly new industry, so not a great deal of research has been conducted to determine its longterm effects. A new report released on Tuesday, Jan. 23 by the National Academies of Sciences, Engineering and Medicine found that vaping with e-cigarettes that contain nicotine can be addictive for teenagers, and possibly a transitional gateway for them into traditional smoking. This new report, which was conducted by a panel of public health experts across the U.S. is one of the most comprehensive studies that exist on e-cigarettes to date. The research grapples with the question, is vaping addictive? The results are pretty alarming.
The study acknowledges that there is proof that e-cigarettes do help smokers quit (as it reduce a person's exposure to deadly tar and other dangerous chemicals and carcinogens), but there haven't been enough long-term studies to know its addictive effects on the heart, lungs or on reproduction, according to The New York Times.
"When it got down to answering the questions about what the impacts on health are, there is still a lot to be learned," David Eaton, who led the committee that released the report from the University of Washington said to The New York Times. "E-cigarettes cannot be simply categorized as either beneficial or harmful."
E-cigarettes have been heavily debated about since the early 2000s, as different science and health organizations conduct research that goes back and forth on whether or not vaping is better than cigarettes. One of the most recent, a 2017 study by scientists at University College London, found that people who swapped starting smoking e-cigarettes instead of traditional cigarettes for at least six months had much lower levels of toxic and cancer causing substances in their body than those that stuck to traditional cigarettes.
We do know that smoking rates among adults and teenagers have declined significantly over the last few decades thanks to research into longterm effects as well as reduced advertising for the smoking industry. As of 2015, about 37 million Americans, or 15 percent of those that were 18 and older, smoked cigarettes. In 2005, it was 21 percent of every 100 adults, and in 1965, it was 42 percent, according to CNN. At the same time overall smoking rates are dropping, the Centers for Disease Control (CDC) released a 2012 study that e-cigarette use among U.S. middle and high school students had doubled between 2011 and 2012. While there may be clear progress and benefits for the older generation of smokers, teens should be wary of jumping on the vape wagon too quickly before knowing its long-term effects.
A major argument against e-cigarettes has been its allure for teenagers. While research shows vaping serves a community of smokers who are looking to transition out and quit, it may also serve as a gateway for teens to try traditional smoking. The National Academies study concluded that vaping may entice teenagers or young adults to try cigarettes, but for lack of long-term research, there can't be any notable links between the two. The research was unable to say if teenagers were just trying cigarettes out of curiosity, or if it was leading them into a habitual lifestyle, according to The New York Times. The committee also recommended more research on whether or not cancer can be linked to certain elements of e-cigarettes.
The conversation about the effects and benefits of e-cigarettes still remains a largely debated issue. On the one hand, antismoking advocates will argue that e-cigarettes are still a gateway for teenagers to get addicted to smoking, and the vaping industry will continue to highlight the positive effects it's had on the already-addicted group of traditional smokers. We can only hope that the more research is done, the closer we can get to unveiling the long-term effects of e-cigarettes.