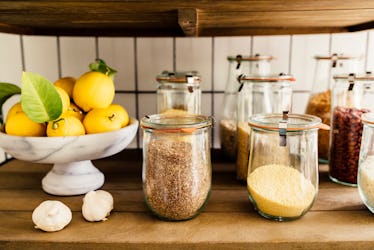 Add A Dash Of This Spice To Your Meals If You Want To Steer Clear Of Breakouts
Turmeric is the spice to stock up on these days, and seemingly for good reason. The very colorful and antioxidant-rich ingredient is believed to be an anti-inflammatory agent and, as a result, is often used as a treatment for things like joint pain, and, rumor has it, turmeric is also good for acne. Now, personally, I recently started taking a turmeric supplement and using the spice in my skincare products, and let me tell you, I've noticed a pretty big difference in my skin and the appearance of blemishes and irritation that typically plagues my poor cheeks.
And, as another added bonus — which might also have something to do with turmeric's potential anti-inflammatory benefits — I decided to try a nice, spicy, turmeric-filled golden milk latte the other day, and it actually seemed to heal the sore throat I was battling quicker than pretty much anything else.
So, can all of these things be chalked up to coincidence? Perhaps, but using turmeric for medicinal purposes is no new trend. And as far as acne is concerned, people who deal with pimples on the reg — like yours truly — apparently have lower levels of antioxidants and higher levels of inflammation in the body than those who don't. Studies also show that curcumin, one of the key ingredients in turmeric responsible for all the spice's health benefits, is very effective in treating bacteria that causes acne.
While some of the claims about turmeric's benefits are simply anecdotal, and some studies show conflicting evidence as to its effectiveness on the variety of ailments it purports to help, if you're like me and willing to try anything to get your skin feeling healthy and smooth, check in with your doctor or dermatologist to see if this might be a nice addition to your self-care regimen. And, lucky for us, there are oh so many ways to enjoy this healthy spice. Here are a few for you to try out.