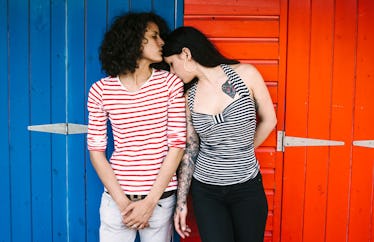 Experts Reveal If Trust Is More Important Than Love In A Relationship, & It Makes Sense
When you think of a good and healthy relationship, there are two aspects that are pretty much a given: love and trust. If you are missing either of these, the relationship is pretty much destined to fail or at least be pretty miserable, right? But is that actually true? Can your relationship succeed with only one? Obviously, the goal is to be in a relationship where you don't have to choose, but hypothetically, if you had to pick one, is trust more important than love in a relationship? Or is love the one you can't make it without?
For me, the answer is clear: It's trust. The reason trust is more important to me is that feelings of love change, and over time they ebb and flow, but trust is the foundation that makes it possible to weather those changes and return back to the love. However, a loss of trust is like a slow poison to the relationship, killing the love off bit by bit. So, if I absolutely had to pick, I'd choose trust every time. But that could just be me, so to get a definitive answer, I reached out to experts for their take on this question. Here's what they had to say.