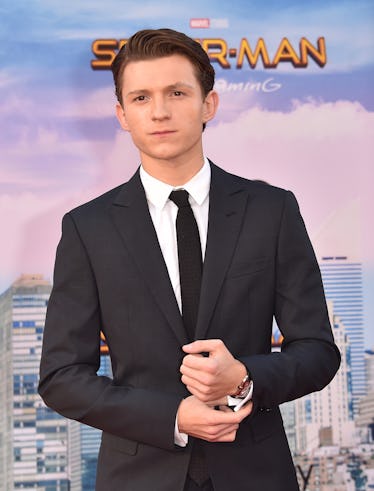 5 Things To Know About Tom Holland's Current Love Life
Alberto E. Rodriguez/Getty Images Entertainment/Getty Images
Tom Holland skyrocketed to fame in 2017 when he stepped on the superhero scene as Marvel's latest Spiderman. The 21-year-old actor made it abundantly clear that he's destined for a bright future in Hollywood, but is Tom Holland single? It's possible he'll be rolling to the Academy Awards solo.
The 2018 Oscars are just around the corner, and the presenter list for the big show is quite the star-studded lineup. Nope — Tom Holland didn't get a nomination for his work in Spider-Man: Homecoming, but he will be able to attend the ceremony and hit the stage to present an award. He'll reportedly be joined by fellow recent addition to the Marvel Cinematic Universe and his co-star in the upcoming Avengers: Infinity War, Black Panther's own Chadwick Boseman. Fans are wondering if Holland will have a date on his arm on the red carpet, though he does not appear to be seeing anyone at the moment. Here's what we know.
1. The Zendaya Rumors Are Out There
Gossip has been swirling for months saying Holland is in a relationshipout with his Spider-Man co-star and pal, Zendaya, but nothing has been confirmed by the couple in question. In fact, Zendaya spoke to Entertainment Tonight back in August and squashed the never-ending speculation that she and Tom are more than just colleagues and BFFs. "We are friends. He's a great dude. He's literally one of my best friends. This past how many months we've had to do press tours together. There's very few people that will understand what that's like at 20 years old," The Greatest Showman star explained. The pair has also joked about the rumors on Twitter.
2. He and Zendaya Are Still Close
Zendaya and Tom were spotted hanging out in Los Angeles just this past week, and of course the paparazzi took notice. So, Zendaya couldn't resist calling out the attention she receives when she's seen with a certain off-duty Peter Parker.
3. He's Been Linked to Another Actress
Tom Holland has previously been linked to actress Ella Purnell, but that relationship was never substantiated either. Prior to their rumored romance, he reportedly had a longterm relationship with childhood sweetheart, director Elle Lotherington.
Last year was a major milestone for the British-born actor and dancer (he was Billy Elliot in the London musical!), but 2018 and 2019 look to be more banner years for Holland as far as his career goes. In addition to Infinity War, he's set to star alongside Daisy Ridley in Chaos Walking and he'll appear in Shawn Levy's (Stranger Things' executive producer) Unchartered. This is all in addition to his costumed commitments as the new Spidey — Spider-Man: Homecoming's sequel will be released in 2019 and Holland is also rumored to make an appearance in Tom Hardy's Venom project.
4. He's Staying True to Himself No Matter What
But just because Tom Holland's in the spotlight doesn't mean he's abandoned who he is and where he came from. "My life is changing all around me, literally in front of my very eyes," he told Time last June prior to Spider-Man's release. "And it's very important I stay true to myself and remain, you know, that little kid from Kingston. The most powerful version of yourself is yourself."
5. His Oscars Date Is Anyone's Guess
Next stop: The Oscars! Holland's buddy Zendaya was recently announced as a presenter at this Sunday's show. Other notable names stepping up to the podium to hand out gold and engage in playful banter with a fellow celeb include Gal Gadot, Oscar Isaac, Laura Dern, Armie Hammer, Kumail Nanjiani, and Viola Davis. Holland is no stranger to the awards circuit at this point — he picked up an EE Rising Star Awards at last year's BAFTAS.
Whether Tom Holland flies solo or brings a date to the Oscars — can he bring a dog? — we're looking forward to seeing the rising star on the red carpet this Sunday. Seriously, Tom's pup Tessa is ridiculously cute.
The 90th Academy Awards telecast starts 8 p.m. ET, Sunday, March 4 on ABC.