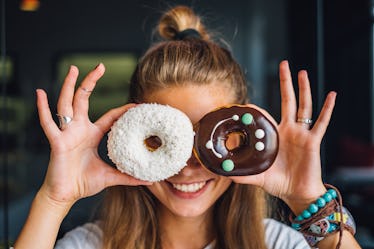 7 Places To Get Your Sweet Tricks And Treats On This Halloween In NYC
Adults may not be able to go door-to-door on Halloween looking to score some candy (because that might be a tad awkward), but we can still satisfy our sweet tooth. I'm not just talking about snacking on a bowl of candy corn while watching Netflix, either. You may be wondering, is there trick or treating in New York City? Well, I have some good news for you, because sweet snags are awaiting on Halloween if you're planning on haunting the Big Apple this year.
It's hard to give up the idea that we were once able to fill up a pillowcase or two with free candy in just one day. Seriously, that candy would literally last until Thanksgiving if our parents were able to keep us from getting chocolate wasted the night of. No worries though, because rewarding yourself with adult-like activities, sweets, and buys is what Halloween should be about now. Notice that there is no regulation about not being able to dress up. So, not only do you get to participate in adult behavior, but you can also be BOOtiful while doing it.
New York City is full of delicious deals and sweet vibes on Halloween for any of us adults having a hard time letting go of the candy and fun-filled days of our youth. Fear no more (at least until the goblins and ghouls ascend), and find your way to Halloween fun in the city that never sleeps this year. Obviously, you'll have to whip out that cash, but it'll make for an unforgettable time.