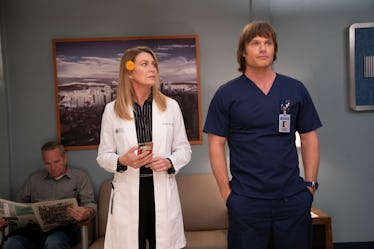 Grey's Anatomy' Is Taking A Break, So Don't Hold Your Breath For A Thanksgiving Episode
ABC
The holidays are nearly upon us. There are only 42 shopping days left until Christmas, and one more weekend to figure out your Thanksgiving menu. But when the turkey, the stuffing, the green beans, and the weird can-shaped cranberry thing on a plate have been eaten, what to do? Since Thanksgiving is on a Thursday, conceivably one could sit down and enjoy new episodes from Shondaland on ABC. But is there a 2018 Grey's Anatomy Thanksgiving episode? Sadly, there is not.
Shondaland shows are at a premium right now for ABC, which means these shows get to end their fall season when they feel like it and return after the new year at their own sweet pace. Grey's Anatomy, for instance, is 15 years on the air and counting. In TV show years, this is practically retirement age. Grey's can decide to plop the Fall Finale the week before Thanksgiving and spent the rest of the year on vacation, and no one can say boo.
And as Grey's Anatomy goes, so goes the rest of Shondaland. All three fall finales for ABC's Thursday night lineup, including Station 19 and How To Get Away With Murder, will air this coming week on Nov. 15 and then return sometime in mid-to-late January.
Much like the rest of the second season of Station 19, its fall finale will follow the same storyline as Grey's Anatomy, as Seattle residents have their day blown off course by a gigantic windstorm.
Meanwhile, How To Get Away With Murder will end their fall half of Season 5 with a wedding, one everyone is dying to go to. How badly will the ceremony be blown off course? Fans will have to wait to find out.
As for what ABC will be airing in their stead come Thanksgiving Thursday, the 8 p.m. hour will be a touch more kid-friendly than Grey's Anatomy's usual openings. Instead, 20/20 will be doing a behind-the-scenes special hyping the upcoming movie Mary Poppins Returns, which is due out the week before Christmas.
This will be followed by a check-in with America's newest royal, Meghan Markle. Monday, Nov. 19 marks six months since she married Prince Harry in a widely televised ceremony, and Thanksgiving evening seems an excellent time for ABC to run a special entitled Meghan's New Life: The Real Princess Diaries on how she's adjusted to her new role as Duchess of Sussex and a mother-to-be. I'm sure the firefighters at Station 19 are happy to have the night off to give Markle some more time to shine in their usual timeslot.
And finally, at 10 p.m. when one would typically be getting away with murder, celebrities will be getting away with going home to their families. That's right. Just in case your visit home for Thanksgiving needs some perspective, ABC will be showing celebrities like Kristin Chenoweth heading back to their childhood neighborhoods to reconnect with those they left behind. The special will be called I'm Coming Home.
Grey's Anatomy, Station 19, and How To Get Away With Murder will air their fall finales this Thursday, Nov. 15, 2018, starting at 8 p.m. ET on ABC.