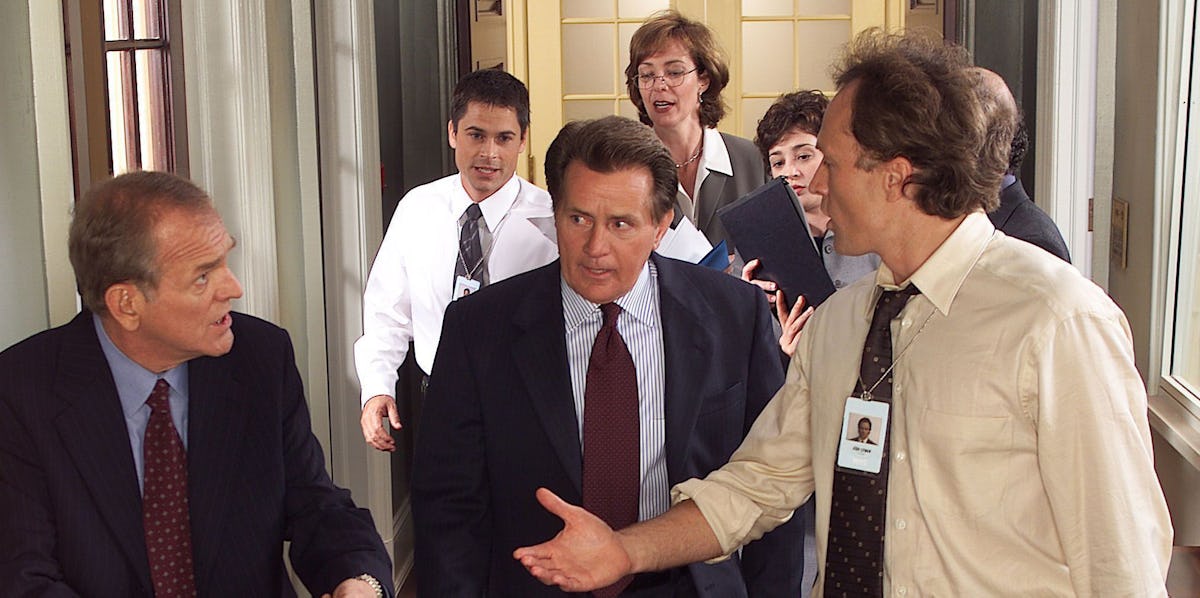 'The West Wing' Might Get Rebooted With A 'This Is Us' Star As The New President
Warner Bros.
One This Is Us star may have to start practicing the old walk-and-talk, because The West Wing creator Aaron Sorkin just said that he wants the family drama star to take over the helm as his new fictional president if the political juggernaut ever gets revived. And apparently, Sorkin is thinking more and more about pulling the trigger on a West Wing revival, so it might actually happen sooner than you may have thought. So get ready to see This Is Us star Sterling K. Brown as the West Wing president, because that's what Sorkin told the Hollywood Reporter when talking about his dream scenario for a reboot.
A few months ago, NBC's Entertainment chairman Bob Greenblatt revealed that the network has been trying to get Aaron Sorkin on board to make a West Wing revival series for a while now, and although Sorkin admitted he does want to revisit his iconic political drama, he had apparently not figured out how best to do it yet. But now, with a public standing offer from NBC on the table, it sounds like Sorkin is thinking more and more about how to bring his acclaimed White House series back onto television. He already has the basic premise worked out: Sterling K. Brown will play the current President of the United State, who will have to call upon former President Barlet (played by Martin Sheen) in order to advise him on a high-pressure issue. Here's what Sorkin said he's dreaming of, exactly:
Sterling K. Brown as the president, and there's some kind of jam, an emergency, a very delicate situation involving the threat of war or something, and Bartlet, long since retired, is consulted in the way that Bill Clinton used to consult with Nixon.
Sounds like a pretty good idea to me! And guess what — Sterling K. Brown is totally on board for it as well. The actor tweeted out that he would be honored to join a West Wing reboot if Sorkin seriously wants to go for it. The only tricky thing would be that Brown is currently starring on another hit NBC drama as Randall Pearson on This Is Us (which just won him an Emmy, by the way), so the scheduling might get a bit difficult.
But, it sounds like there is still going to be some time before this potential West Wing revival actually gets going. After he revealed his ideal scenario for the reboot, the showrunner went on to say that he is still not sure how he will be able to work in the other major characters from the original run — like Alison Janney's C.J. Cregg or Bradley Whitford's Josh Lyman — into a newly staffed White House under Sterling K. Brown's presidency. Still, it is reassuring for fans to know that Sorkin is at least thinking up ideas for a potential reboot right now; that's some progress!
One thing that you should not expect from any new iterations of The West Wing is any real mention or commentary on our current president, Donald Trump. Aaron Sorkin made it clear that he has no interest in talking about Trump or his rise to the presidency in his projects. Honestly, now I just want The West Wing to come back just so we can escape to a fantasy world where Sterling K. Brown or Jed Bartlet is the president and Trump doesn't even exist. I guess we are all just going to have to wait a while for that to actually happen though.
For now, you can catch Sterling K. Brown on This Is Us Tuesdays on NBC, and Aaron Sorkin's new movie Molly's Game hits theaters on Christmas.