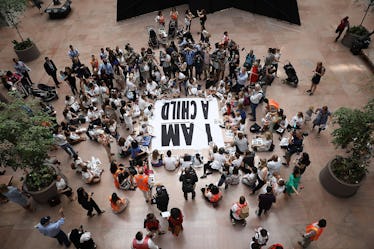 The Trump Administration Deadline To Reunite Families Is Today & Here's How It's Going
Win McNamee/Getty Images News/Getty Images
The government is scrambling to meet its deadline on Thursday, July 26 to reunite families that have been separated at the result of the zero-tolerance immigration policy under President Donald Trump. But whether the Trump administration is meeting the deadline to reunite these families is proving complicated. The policy, implemented in April, has resulted in thousands of migrant children being removed from their parents.
Whether the administration actually succeeds in reunifying families and the manner in which it does are two very different questions. But as to the former, it doesn't appear likely that the government will have brought back together all of the families separated by Thursday's deadline.
The July 26 "firm deadline" was set by California Judge Dana Sabraw in federal court a couple of weeks ago during a lawsuit brought on behalf of separated families by the American Civil Liberties Union (ACLU), per CNN. But it's not clear what will happen if the deadline, which is Thursday at 6 p.m. ET, passed without all families being reunified.
Thursday's deadline requires the government to reunite all minors being held separately of their parents, which differs from a July 10 deadline to reunite children under the age of five.
Per CNN, 1,012 of 2,551 parents had been reunited with their kids as of Tuesday. While that may seem like a good thing, it's definitely not time to celebrate, as another 914 parents won't be reunited with their children this week.
In fact, it's unclear when, if ever, some families will be brought together again. Speaking on CNN's New Day on Thursday, former ICE chief John Sandweg said, "There's a very high likelihood that many of these parents are never going to see their kids again." He added,
If they have a relative in the US, there's a chance that that relative will be appointed their legal guardian. But many of the other kids will actually go into the foster care system and could become wards of the state, could be subject to adoption. ... These kids are actually going to stay in the U.S.
Sandweg, asked if the parents presumably knew that was the risk in crossing the border illegally, said no, citing the fact that until a couple of months ago, the practice was merely to deport families, not to separate them. "The idea that they were going to be separated permanently, I don't think, ever crossed their minds."
Many families that have been reunited are now being held in detention. And according to The Washington Post, another 463 parents had been deported, though it's unclear their children were with them, leaving open the question of what happened — and what will happen — to those families.
Parents are essentially faced with a tough dilemma: To pursue asylum, or accept deportation, a decision advocates say many didn't understand when presented with those options. The American Civil Liberties Union (ACLU) on Wednesday argued in federal court that many migrants didn't know what they were agreeing to when they signed government forms waiving their rights. The ACLU is seeking an extension period to give immigrants time to get legal advice and weigh their decisions before making them.
For parents considering deportation, the decision becomes even trickier: To go back alone, or leave their children in the U.S. alone so that they may seek asylum. Given that many families were fleeing violence in their home countries, parents may be hesitant to reintroduce their children to that risk and prefer to leave them here in the hopes of ensuring their safety on U.S. soil.
The process is further complicated because not all parents are eligible for reunification for one reason or another; such as a question about their health, their identity, or a criminal record.
The family separation policy has entangled thousands of migrants into a complex web involving the Department of Justice (DOJ), which prosecutes border crossers; Department of Homeland Security (DHS), which apprehends them, and under which the border and immigration enforcement agencies are housed; and the Department of Health and Human Services (HHS), which is responsible for caring for children who enter or find themselves alone in the country.
The practice of removing parents from their children has prompted massive global condemnation, even from those within the government agencies carrying out the process. In a strongly-voiced letter to DHS Secretary Kirstjen Nielsen, members of the department's advisory council resigned on July 16. Other officials have acknowledged that the policy and process of reunification itself present risks to the children especially.
Speaking before Sabraw in court on July 13, HHS official Chris Meekins said that while he'd comply with the order to reunify families, he had concerns about the process. "I recognize that the likely result of implementing the Court's order through the inter-departmental reunification plan will be faster reunifications of a significant number of children with their parents," Meekins said, per CNN. "At the same time, however that process will likely result in the placing of children with adults who falsely claimed to be their parents or into potentially abusive environments."
While it remains unclear how many of the separated families will be reunified by the end of the deadline Thursday, protests in the capitol, which have been ongoing throughout the workday, make clear that the country is watching to see how the administration carries out its charge.