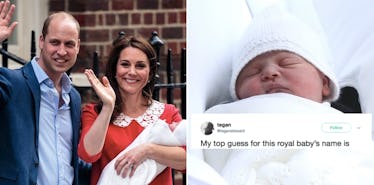 Fans Are Convinced They Know The Royal Baby's Name Because Of This One Thing
Jack Taylor/Getty Images Entertainment/Getty Images, Chris Jackson/Getty Images Entertainment/Getty Images, Twitter
I know the new royal baby was only born two days ago, but it feels like the public has been waiting for him for a lifetime. On Monday, April 23, Kate Middleton and Prince William welcomed their newborn to the royal family and debuted his sweet little face on the steps of St. Mary's Hospital. They have yet to announce his name, but one little clue from Prince William has folks taking serious bets. It kind of sounds like the royal baby is named Alexander, though nothing is confirmed... yet.
UPDATE: In a tweet published on Friday, April 27, Kensington Palace confirmed that Prince William and Kate Middleton named their third son Louis Arthur Charles, adding that the baby will be known as His Royal Highness Prince Louis of Cambridge.
EARLIER: This latest theory comes after Prince William made a comment while attending a commemoration service at Westminster Abbey with his brother, Prince Harry, and his soon-to-be sister-in-law, Meghan Markle, on April 25. As the story goes, the Australian High Commissioner, Alexander Downer, was in attendance. As Prince William shook his hand, Downer joked with The Duke he should name his Highness after himself, Alexander. Prince Williams responded, "Funny you should say that... It's a good name."
Excuse me... did you just say, "Funny you should say that?" WHAT ELSE COULD THAT POSSIBLY MEAN BESIDES, "YEAH, BRO. WE SURE DID NAME HIM ALEXANDER."?
William, dude.
He quickly carried on with the conversation, but damn if it doesn't look like the commissioner hit the nail on the head.
Watch the video and you tell me.
Obviously, Twitter jumped all over the comment.
Alexander has been at the top of the betting list for some time, right next to Arthur, Albert, James, and Philip. Traditionally, royal family member names are based on some special combination of family tradition, heritage, and royal lineage. Obviously.
In the royal baby's older brother and sister's case, this is certainly the formula Middleton and William used. Prince George was chosen thanks to the Queen's beloved father, King George VI, plus his father who came before him. George's middle name (and maybe the baby's first name!), Alexander, also hails from Queen Elizabeth, whose full name is Elizabeth Alexandra Mary. As for Princess Charlotte Elizabeth Diana, her name is a combination of the Queen's name and her late grandmother's name, Princess Diana. It's also said Charlotte is the feminization of the name Charles, aka the Prince Of Wales.
Dude, I know. It's a lot to keep up with.
Kensington Palace kept the public abreast on all things baby except for the name. On the morning of April 23, they tweeted Middleton was on her way to the hospital where she has delivered all of her children, and made the happy announcement a few hours later that the baby had arrived.
Kensington Palace tweeted:
Her Royal Highness The Duchess of Cambridge was safely delivered of a son at 1101 hrs. The baby weighs 8lbs 7oz. The Duke of Cambridge was present for the birth. Her Royal Highness and her child are both doing well.
The Queen, The Duke of Edinburgh, The Prince of Wales, The Duchess of Cornwall, Prince Harry and members of both families have been informed and are delighted with the news.
Between the royal baby's arrival and the royal wedding on the way, this family sure has a lot going on behind closed palace doors.
I know this isn't, like, a great idea... but has anyone considered naming the lad Markle? After all, there's a new family member in town and she deserves to get in on the fun too, don't ya think?
Queen Elizabeth, have your people call my people and we can discuss.
Check out the entire Gen Why series and other videos on Facebook and the Bustle app across Apple TV, Roku, and Amazon Fire TV.