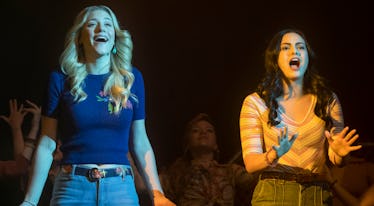 'Riverdale' Just Did A Full Musical Episode & Everyone Has This One Question
CW
Riverdale gave us one of its most memorable episodes ever on Wednesday night, as the tortured teens of Riverdale High sang and danced to the fittingly macabre tunes of Carrie: The Musical. The episode managed to fit in a ton of songs, and the vibrant performances were definitely appreciated by Riverdale fans, but some people may still be wondering one thing: Is the Riverdale cast lip syncing in the musical episode? The cast can do more than just act, and they definitely proved that.
Even before Wednesday night's musical episode "A Night To Remember," music has played a big part in Riverdale over the past two seasons. Remember when Archie's love of music was, like, a big deal in Season 1 (that has kind of fallen to the wayside this season), and of course Josie and the Pussycats have performed several times throughout the series, oftentimes including Veronica as well. Oh, and who could possibly forget that... umm, let's call it interesting... karaoke performance of "Mad World" that Betty gave at F.P. Jones' welcome-home party.
But the Riverdale kids took it to the next level with the Carrie: The Musical-centric episode, which was packed with songs from start to finish. Obviously, none of the cast members were performing their singing parts live, but the recorded vocals were actually laid down by them, it seems. After all, the do have the singing talent to back it up. Let's go over each of the main cast's background in music:
KJ Apa (Archie Andrews)
Like his character, KJ Apa has a talent for singing, but his real passion is playing the guitar. We got to see some of Apa's talent in the first season of Riverdale, when he performed his original song with Josie and the Pussycats.
In real life, Apa actually released his own album when he was 14 years old, and it is filled with guitar riffs. He also periodically posts videos of his guitar playing on Instagram.
Camila Mendes (Veronica Lodge)
Riverdale fans have heard Veronica Lodge belt out many a song on the series, and the truth is that Camila Mendes can actually sing that well in real life. There are a few videos of Mendes showing off her impressive pipes around the Internet, including the SZA cover that she sang in a studio, which you can watch above.
Lili Reinhart (Betty Cooper)
Like her castmates, Lili Reinhart is also a very impressive singer in real life. Apparently, she has not only had a passion for acting for years, but also singing and dancing, which she definitely got to show off in the musical Riverdale episode. You can find a couple videos of Reinhart covering popular songs online, including Sara Bareille's "Gravity" and Chris Isaak's "Wicked Game."
Madelaine Petsch (Cheryl Blossom)
Although Cheryl Blossom was cast as the lead in the school musical (before that ill-fated casting switch-up), Madelaine Petsch appears to have the least experience with singing out of the show's main cast. Petsch does have an extensive background in dance (which might explain why Cheryl leads the Vixens cheer squad), and she can also clearly carry a tune. Riverdale fans saw Cheryl sing "Milkshake" earlier this season, and Petsch proved her rapping skills live at Comic-Con by flawlessly delivering the breakdown in "Sugar, Sugar," which you can check out above.
Cole Sprouse (Jughead Jones)
Well... not everyone in Riverdale is a fan of song and dance! Cole Sprouse has made it pretty clear over the years that he does not enjoy singing, which is probably why Jughead is the only member of the show's main cast that did not belt out any songs in the musical episode.
All of his Riverdale costars revealed that Sprouse was the least excited about the musical episode. Luckily, he was able to hide behind his camera the whole time.