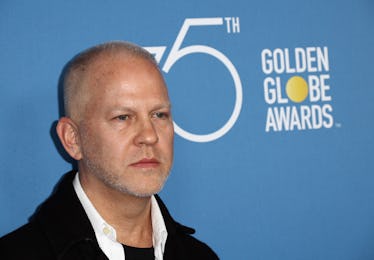 Ryan Murphy Just Gave A Big Update On That Monica Lewinsky 'American Crime Story' Season
Frederick M. Brown/Getty Images Entertainment/Getty Images
It was a TV-shattering move earlier this year when Netflix announced they lured Ryan Murphy away from his decade-and-counting relationship with FOX. The streaming service is working overtime to bring forth an in-house TV series, and Murphy is one of the most prolific and popular creators of TV programming this decade, with hits like Feud, American Horror Story, and American Crime Story on his resume. But with the move comes questions on how those series will proceed once he leaves. For instance, is that Monica Lewinsky American Crime Story happening?
Unlike American Horror Story, which has been producing new seasons like clockwork, American Crime Story has been a little bit of an off-stage disaster. The first season, 2016's The People v. O. J. Simpson: American Crime Story was an out-of-the-box hit, sweeping up 22 Emmy nominations and taking home nine. But the second season, which was supposed to air in 2017, supposedly based on the first few days post-Hurricane Katrina, was delayed so thoroughly it still hasn't started filming. In its place, Season 2 became 2018's just-finished airing The Assassination of Gianni Versace: American Crime Story, which was critically lauded, even as those who chronicled in the tale, including the Versace family, insisted that the show was taking massive liberties with the facts.
At the time of Murphy's announced planned departure, FX bosses suggested that nothing would change with Murphy leaving. FX CEO John Landgraf put out the following statement:
For more than 15 years, we have enjoyed an outstanding partnership with Ryan Murphy and we look forward to continuing that relationship on our four shows under his creative leadership.
But it seems that things will not be totally unaffected by Murphy's coming departure. According to The Hollywood Reporter, Season 4 of American Crime Story — which was supposed to cover the 1997 Clinton era and the president's alleged affair with Monica Lewinsky — has been permanently tabled. President Clinton was charged at the time with lying to the Grand Jury about his relationship with Ms. Lewinsky. As reported by Newsweek, "he was later impeached in 1998 by the House of Representatives on charges of perjury for denying he had a "sexual relationship" with Lewinsky during grand jury testimony."
Clinton's statement at the time to the press on the charges was as follows:
As you know, in a deposition in January, I was asked questions about my relationship with Monica Lewinsky. While my answers were legally accurate, I did not volunteer information. Indeed, I did have a relationship with Miss Lewinsky that was not appropriate. In fact, it was wrong. It constituted a critical lapse in judgment and a personal failure on my part for which I am solely and completely responsible.
In 2014, Monica Lewinsky characterized the relationship in Vanity Fair thusly:
I don't actually know why this whole story became about oral sex. I don't. It was a mutual relationship.… The fact that it did is maybe a result of a male-dominated society.
According to Murphy, the hold up on American Crime Story is not because FX wanted the plug pulled on the season. It's because after announcing it, he had second thoughts and decided that Lewinsky should be involved in any project that tells the story of this part of her life:
I told her, 'Nobody should tell your story but you, and it's kind of gross if they do,' Murphy recalls saying. 'If you want to produce it with me, I would love that; but you should be the producer and you should make all the goddamn money.'
Lewinsky has not commented publicly on the possible American Crime Story season.
So, what is in store for American Crime Story? Apparently the season based on Katrina's aftermath is still a go, and Sarah Paulson, who has been attached to star since summer of 2017, is still playing Dr. Anna Pou, the head of the hospital who made the decision to start euthanizing critically ill patients after they had been left without power for days on end.
Fans are still waiting to find out if actors who were attached to the project, including Courtney B. Vance and Cuba Gooding Jr. from American Crime Story Season 1, as well as Murphy-production newcomers Annette Bening, Matthew Broderick, and Dennis Quaid are still part of the project after the long delay.
As for a replacement American Crime Story Season 4, Murphy would only say to The Hollywood Reporter that the production team has "been toying with other timely topics." Fans will have to wait and see what those are, most likely after Season 3 finally starts filming.