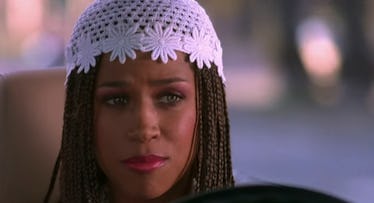 Dionne From 'Clueless' Isn't Running For Congress Anymore & "Whatever!"
Long before Donald Trump was president, he was a savvy businessman and fierce reality star. So, of course, when he was elected into office with little political experience, increasing amounts of celebrities opted to try their hands at politics. (Just take a look at Cynthia Nixon or Kanye West as examples.) But the most shocking announcement might have been Stacey Dash's on Feb. 26, in which she revealed that she would be running for Congress. She seemed completely confident and steadfast in her decision to run for a congressional seat — but, to some of us, it was unfathomable: Dionne from Clueless... running for... office? "As if!" Since her announcement, my eyes have been glued to her in an attempt to see just how far this campaign would go. If you're anything like me, you're also probably wondering if Stacey Dash is running for Congress still. Let's just say, the answer may or may not be what you expected.
On March 30, Dash took to her Twitter to post a statement that revealed she would be dropping out of the race for Congress, citing the "wellbeing" of her family for the reason behind her departure. She wrote,
After much prayer, introspection and discussions with my family, I am withdrawing my candidacy for California's 44th Congressional District. I started this run with the intention to address the pressing issues in the district where I live. I hoped, and remain hopeful, that I can assist people living here on the national level. My goal was, and remains, to improve the lives of people who have been forgotten for decades by the Democratic Party.
"At this point, I believe that the overall bitterness surrounding our political process, participating in the rigors of campaigning, and holding elected office would be detrimental to the health and wellbeing of my family," she continued. "I would never want to betray the personal and spiritual principles I believe in most: that my God and my family come first."
So, in a nutshell, it looks like she was "clueless" about all the drama that comes with running for office. Oh, the irony!
It's been just over a month since she announced her congressional bid. On Feb. 26, Dash's paperwork to run in California's 44th district was uploaded to the Federal Election Commission website. She was running as a Republican bidding for a seat in the House of Representatives, using the campaign slogan "Dash to DC." Vanity Fair reported that, at one point, Dash's campaign website included a section that detailed her interests in politics, but it was later removed. The excerpt reportedly claimed that Dash's influence to run for office stemmed from the backlash she got when she supported conservative candidates Mitt Romney and Donald Trump during the 2012 and 2016 presidential elections, respectively.
Social media users weren't feeling her decision to run, though. So people took to Twitter to hurl the most savage Clueless jokes.
But who could blame them?
Dash is known for being controversial. Back in 2013, when celebrity chef Paula Deen was embroiled in controversy after she revealed that she'd used the N-word in her earlier years, Dash came to her defense via Twitter. The actress-turned-news correspondent wrote, "God does everything for a reason @Paula_Deen Only God can judge your heart BTW my daughter loves your show (only way she can get me to cook)."
Awkwaaard.
There was also the time she blew up at Grey's Anatomy star Jesse Williams back in 2016 after his powerful speech at the BET Awards, in which he talked about the Black Lives Matter movement, slavery, and police brutality. According to Us Weekly, she called the actor a "plantation slave," and declared that he didn't know what he was talking about via a post on her blog, Patheos. She wrote, "You've just seen the perfect example of a HOLLYWOOD plantation slave! Sorry, Mr. Williams. But the fact that you were standing on that stage at THOSE award tells people you really don't know what you're talking about. Just spewing hate and anger."
And per usual, those comments totally backfired.
Maybe this will be a lesson to Dash: You have to watch your words wisely 'cause you never know when they'll come back to haunt you. And in her case, they may have cost her her congressional bid.
Better luck next time.