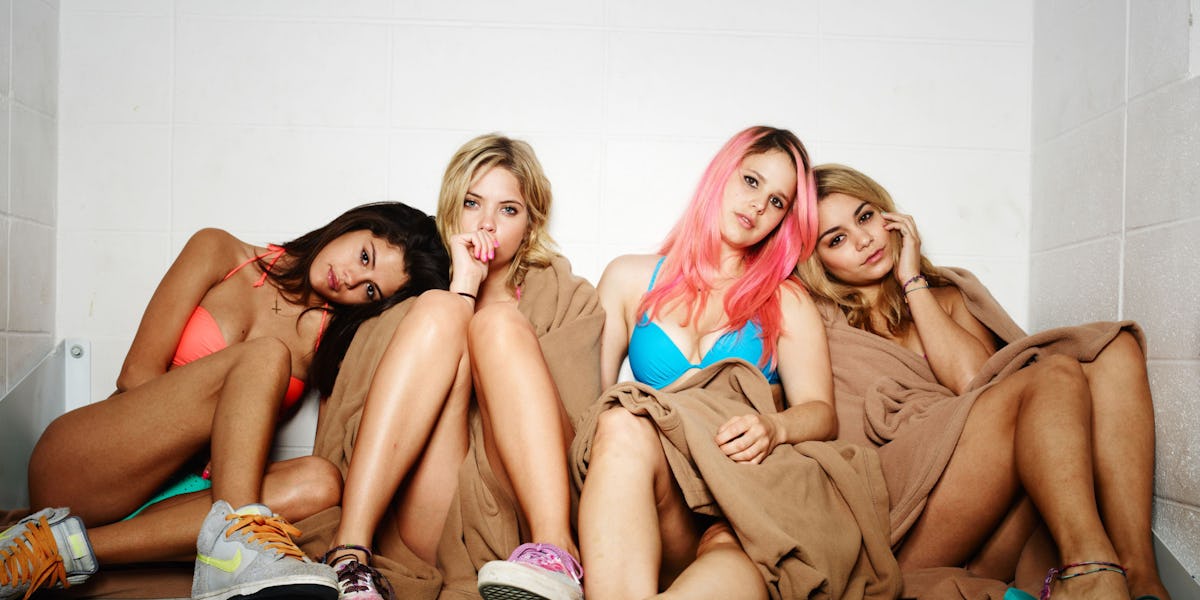 This Ultimate Spring Break Movie Isn't On Netflix, So Here's What To Watch Instead
A24
What's become the ultimate spring break cinematic experience in the past few years? Nope — we're not referring to From Justin to Kelly, despite its cheesy appeal. Spring Breakers gained steady cult classic status since premiering in 2012 and it's an obvious choice for a watch this time of year. But is Spring Breakers on Netflix? Unfortunately, you can't get down with the bizarre neon bikini-fest flick on the streaming service at this moment in time. Don't fret, binge-watchers — there are other entertaining titles that should satisfy the genre craving. These 9 movies and TV shows may not all feature former Disney teen stars robbing fast food restaurants and partying their faces off, but you can stream them just in time for spring break season. Spring Break 4 eva and eva, y'all.
1. Staten Island Summer (2015)
Who doesn't love a unique coming-of-age comedy? This one revolves around a group of lifeguards in Staten Island trying to grow up as fast as they possibly can. That includes hosting an epic summertime blowout with the hopes of making all their post-adolescent dreams come true.
2. White Girl (2016)
In the spirit of indie provocative teen dramas like Kids, White Girl is the kind of intense party-girl-gone-wrong film that will have you on the edge of your seat biting all your nails off. Warning: this is not a lighthearted collegiate romp about homecoming and midterms. Things take a pretty serious turn.
3. Pretty Little Liars
If you're an Ashley Benson fan, why not do a binge-watch of Pretty Little Liars? The ABC Family/Freeform mega-hit is one of the most addictive teen mysteries of all time, even if things get a little extreme at times. If you've never seen it... even better. There are seven seasons of the twisty compelling series to get through.
4. Magic Mike (2012)
Looking for some serious party people vibes? We can just smell the steamy Tampa air now! If you're not aware of stripper dram-com Magic Mike then you probably haven't been out much in the last six years. The Channing Tatum rollercoaster ride has a bleak side, but it's also just a whole lot of exotic dance fun.
5. Skins
If teenage debauchery is what you fancy, then Skins is your next TV obsession. The British import is the UK's answer to Gossip Girl and The OC, except things get way more out of control.
9. American Pie (1999)
It's not edgy or anything, but the 1999 favorite about seniors vowing they can lose their virginities by prom was an instant classic. Let's give credit where credit is due. Baked goods haven't been the same since.
7. Good Kids (2016)
Woohoo! Graduation! Now what? The post-grad blues have been explored on screen before, but many young adults can relate to the uncertainty of the time. This one's about a group of "smart kids" who attempt to achieve the full high school experience over the summer before college. Discovering who you are and who you want to be is hard, guys.
8. Bachelorette (2012)
This dark comedy isn't about teens, but it is about girls behaving badly. Or, women for that matter. Kirsten Dunst, Isla Fischer, and Lizzy Caplan are just about the most messed up bridesmaids ever.
9. XOXO (2016)
EDM is all the rage with the young folk, so join the partay from the comfort of your couch. Be wild and free without leaving the house! It's the best. This Netflix original film starring Modern Family's Sarah Hyland revolves around joy-seeking, 20-something strangers connecting to the music and each other at a massive music festival rave situation.