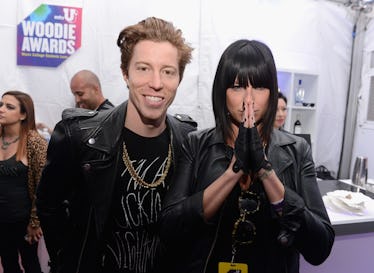 Sorry, Ladies, Olympian Shaun White Has A Girlfriend & She's A Total Badass
Vivien Killilea/Getty Images Entertainment/Getty Images
The 2018 Winter Olympics are upon us. Among the eager and young professionals is OG snowboarder Shaun White. The two-time American gold medalist has an exciting career full of awesome commercials, interesting sponsors, and of course, epic flips and tricks in the snow. Now, fans just have one question: Is Shaun White single?
Funny. Of course he isn't.
Someone this talented, charismatic, nice, and interesting doesn't just stay single forever. Though we're sure he's had his fair share of partying days like any extreme athlete would, White is actually in a long-term relationship. His girlfriend's name is Sarah Barthel, and she's badass as hell.
Barthel is half of the electronic rock duo, Phantogram. You might recognize her from the music festival circuit, or from one of Phantogram's music videos. She also recently had an interview with Marie Claire to talk about her unique sense of style and fashion. (She can rock both platinum AND black hair like nobody's business.)
Yup, same person.
Not that I know anything about being a rock musician or professional athlete, but it feels right for these two to be together. I mean, she's seriously fierce, guys.
Check her out in this music video.
Intense, no? Just about as intense as flying through the air strapped to a piece of fiberglass.
White recently spoke with US Weekly about a gnarly accident he suffered while training for the 2018 Olympic games. He told the magazine,
I'm feeling good. Honestly, it was more of an alarming thing than anything, like any pain or any longterm injury. It's always not the best scenario to hit your face, but it was more alarming than anything. I've definitely been close to something worse and I got my stitches and the doctors did an amazing job, so I'll be back looking normal any day now.
White even shared a graphic picture of his facial injuries on Instagram. He captioned the picture,
I've always lived my life by pushing the limits. Winning is great, but it's the tough times that truly define you. I took a slam while training the other day, but don't worry I'll be back soon and better than ever!! Thanks @beatsbydre for bringing me into the family. #NormalisBoring #1of1 #RockNRoll
As for Barthel, it sounds like White's accident scared her a little bit, but that's fair.
White told US Weekly the crash wasn't a huge deal to him, but he still he appreciates the concern from his girlfriend and family:
Everyone is alarmed by this crash, but I feel great. I'm so excited. That was the most frustrating part when I crashed, I was sitting there bleeding and all that was going through my head was how annoyed I am and how pissed off I am because I knew exactly what I did wrong. It's like hitting the curb when you're trying to parallel park or something. You're like, 'God, I've done this a million times! I'm an idiot!' That's how I look at it.
He added,
This is my life, this is what I do. I've done these tricks a million times and to do a mistake like that is just an annoyance at this point. I'm feeling great for the competition and everything is still going to plan, not exactly the plan I envisioned, but still a plan. It's gonna work out.
With a relationship this awesome at home, how could things NOT work out?
Check in on White at the 2018 Winter Olympics this year in Pyeongchang, South Korea, and keep your eyes peeled for Barthel cheering him on. (She'll likely be the one wearing leather.)
Check out the entire Gen Why series and other videos on Facebook and the Bustle app across Apple TV, Roku, and Amazon Fire TV.