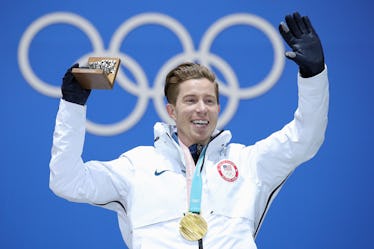 Here's One Famous Face You May Not See At The PyeongChang Closing Ceremony
Andreas Rentz/Getty Images Sport/Getty Images
Shaun White is one of the most recognizable American names of all time when it comes to winter sports. It's hard to remember a time when the accomplished 31-year-old wasn't dominating snowboarding. At this year's Olympics in PyeongChang, the record-winning medalist in the sport won the gold at the men's halfpipe, so is Shaun White at the 2018 Olympics closing ceremony?
According to his social media, White returned home to Los Angeles following his time in South Korea, so it's not clear if he'll be in South Korea for the closing ceremony. Apparently, he was hanging out with another legend — Miley Cyrus — who took to Instagram to share a pic of the two of them (and Shaun's gold medal) on Feb. 20. NBC Olympics also shared a video on Feb. 18 of White's flight after competing in the Olympics, were he was hounded by fans.
Shaun White became a household name back at the 2006 Olympics in Turin, Italy over 10 years ago — often referred to by his nickname, "The Flying Tomato" — when he snagged his first halfpipe gold. The San Diego area native quickly became one of the U.S.'s most celebrated athletes, and he went on to compete at the 2010 Olympics in Vancouver. It was there where he picked up another gold medal. At Sochi in 2014, he shockingly failed to medal and came in fourth in the halfpipe competition. He has openly discussed the defeat and how it affected him, revealing to NBC following the games,
People ask, 'When are you going to get over it?' You know, the loss or whatever. You don't, you don't really ever get over it. It's kind of like you have a scar from falling off a bike, it's just with you forever. But you learn from it. So it's a part of me now, which is great. As hard as it was, I'm thankful that it happened because it taught me a lot.
Four years later, and Shaun White proved just how resilient he can be in the sport, earning his third career gold medal on Feb. 13.
"I really had to work for this one, honestly," White said of his approach to coming out victorious this time around, according to NBC. "I did a run that frightened me — that I've never done before, even in practice. The combinations I was working with, I've never done it before. I had to do it not only better and bigger than the guys before me, but do this thing that I'd never done in order to win the Olympics. It just meant the world to me. That's why you see me at the bottom just breaking down."
White's road to gold over the past few years was quite the rocky one. In October 2017, he was involved in a snowboarding crash in New Zealand that resulted in facial injuries that required 62 stitches.
"I was working on a new trick, and as I re-entered the halfpipe, I clipped the top. I flew about 22 feet and hit my face at the bottom, and had 62 stitches and I had some bad bruising in my lungs. My modeling days may be over, but I will definitely be there in 2018 in PyeongChang for the Olympics," he explained of the injury.
Not only did he make it to PyeongChang, he took home a frickin' gold medal. "Redemption for Shaun White!" declared NBC Olympics' Twitter account of his comeback win.
Although White won gold, his appearance did not come without controversy. A 2016 sexual harassment lawsuit came to light again over the past few weeks leading up to the 2018 Winter Games, which was filed by Lena Zawaideh, the former drummer of White's band, Bad Things, in 2016. The lawsuit alleged that White "repeatedly sexually harassed her and forced his authoritarian management style on her for over seven years." It was settled out of court. At a press conference following Shaun's win, when asked about how the allegations would affect his reputation, White responded, "I'm here to talk about the Olympics, not gossip and stuff. I don't think so... I'm proud of who I am. My friends, you know, love me and vouch for me. I believe that stands for itself."
He later appeared on The Today Show to apologize for his remarks and clear the air.
Will we see Shaun in Beijing Winter Olympics in four years? He's considering a shot at the 2020 Summer Olympics in Tokyo as a skateboarder, but 2022 isn't out of the question either. He revealed to the LA Times,
I'll have to make a hard decision at that point, to be at the top of the game in snowboarding and then decide all of a sudden to let my competitors have two years of practice on me while I pursue skateboarding, and then try to come back for the China Olympics (in 2022). Because that's something still on my radar. It's a big decision.
So fans will have to wait and see.