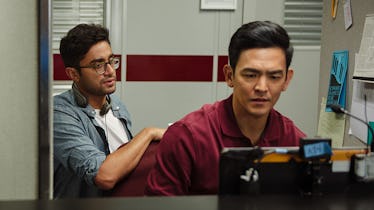 Here's Everything Fans Should Know Before Going To See 'Searching' In Theaters
Screen Gems
As summer fades, the box office empties out of blockbusters for a few weeks as awards season roles in. This is the time when films which debuted back in January at Sundance finally make their way to the mainstream movie houses. First out of the gate this year: Searching, a film shot entirely from the point-of-view of smartphones and computer screens, and the first Hollywood thriller to star an Asian-American actor in the lead role. But fans want to know: is Searching based on a true story?
The plot seems plausibly realistic: David Kim (John Cho) loses his wife in the first 15 minutes of the film, played out entirely via video messages, calendar alerts, and Gmail notifications in the corners of the screen. Her death drives a wedge between David and his 16-year-old daughter, Margot (Michelle La).
Margot stays out after school, starts going to late night study groups, and then one day never comes home at all. David becomes an internet stalker of his own child, searching through her laptop, in hopes of finding clues to what might have happened to her. But plausible as the plot is, Searching is not based on actual events. It's just a movie that realistically focuses on how technology pervades our modern lives. That's good enough for overall positive reviews, with a Rotten Tomato score of a whopping 94 percent fresh.
Searching's storytelling framework via desktop layout and mobile screens is one of the major selling points, even if it initially looks off-putting or distracting. The movie is a thriller, not just because of the disappearance of David's daughter, but how his slow poking through her social media, her messages, her files, and her photos slowly builds him a picture of a teenage daughter he never really knew.
The writers of the film are Aneesh Chaganty and Sev Ohanian, with Chaganty directing. If the name sounds familiar, that's because Chaganty worked for Google and was one of the creatives who was involved with Google Glass. So the idea of looking through technology at the world comes naturally to him.
As Entertainment Weekly's review puts it:
It's a lot to carry a film where your costars are effectively zeros and ones, but Cho's sympathetic presence fills the screen(s); the way his eyebrows knit together like concerned caterpillars or pause for an unexpected laugh line feels like a call to Hollywood casting agents to give him more to do, soon. And if Chaganty can't help overgilding his final twist, Searching's smart, nimble execution still thrills.
As for how the film is expected to do this weekend, chances are it won't be able to overcome Crazy Rich Asians, which is likely to threepeat at the box office. But it will expand its reach from the initial release last weekend. According to Variety:
Sony's Searching is expanding to 1,200 locations. Last weekend, the thriller starring John Cho and Debra Messing opened in nine theaters with $390,000. That translates to an impressive per-screen-average of $43,388.
Searching should be arriving in local theaters around the country starting Friday, Aug. 31, 2018.