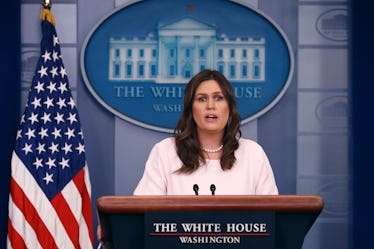 Sarah Sanders Will Rep Trump At The Correspondents' Dinner & I Have Questions
Chip Somodevilla/Getty Images News/Getty Images
The news is out that President Donald Trump is ditching this year's White House Correspondents' dinner (WHCD) on April 28 for a Trump campaign rally. Not to worry though, he's sending his trusty sidekick Press Secretary Sarah Huckabee Sanders to the black tie event to represent the Trump administration. Since it's a press-centric event, is Sarah Huckabee Sanders speaking at the WHCD?
The verdict is still out on whether Sanders will prepare a speech for the swanky event, but we know that she will definitely be in attendance. The White House Correspondents Association (WHCA) put out a April 6 statement from their president, Margaret Talev, on Twitter confirming that Trump will not attend the WHCD, adding, though, that Sanders will be there to represent the administration. She wrote,
The White House has informed us that the president does not plan to participate in this year's dinner but that he will actively encourage members of the executive branch to attend and join us as we celebrate the First Amendment. In keeping with tradition, Press Secretary Sarah Sanders also will represent the administration at the head table. The April 28 dinner celebrates award-winning reporting, scholarship winners and the vital role of the First Amendment and the free press in American democracy.
Talev only confirmed a sentiment expressed by Trump earlier that day on April 6. While appearing on WABC's "Bernie & Sid in the Morning" show, Trump said that, "It's unlikely I will do the White House Correspondents' dinner this year," according to a tweet sent out by the show.
A little over a week later, on April 17, the Trump campaign announced that they would be hosting a rally in Washington, Michigan on the same day as the WHCD. Trump campaign chief operating officer, Michael Glassner, released a statement saying that instead of attending the event "in the swamp," the president will instead be celebrating "national economic revival with patriotic Americans," according to CNN. Glassner wrote,
While the fake news media will be celebrating themselves with the denizens of Washington society in the swamp that evening, President Trump will be in a completely different Washington, celebrating our national economic revival with patriotic Americans.
It's not at all surprising that Trump will be ditching the WHCD. "Fake News" is kind of his brand (just scroll through the president's Twitter). But he will be missing out on all the fun. This year's WHCD will be hosted by former Daily Show correspondent, Michelle Wolf. The Daily Beast asked the comedian how she feels about Sanders attending the event, "I'm just excited Sarah finally gets to go to prom," Wolf responded.
If you ask me, the roast is just beginning. I expect to see Sanders deal with a lot more jokes from Wolf, at her expense. But probably a few more about her boss, Trump.
Which, come to think of it — you know, aside from despising the "Fake News Media" — is probably another reason why Trump tends to be MIA at these dinners.
Trump was once at a WHCD as President Barack Obama's guest, in 2011. Obama took the opportunity to roast Trump a little, and as the story has it, Trump was not too thrilled about it, according to The Daily Beast. I know you are dying to be reminded of what Obama said to Trump that night. So here it is:
First Obama went after Trump for being a birther. He said,
Donald Trump is here tonight. I know that he's taken some flack lately, but no one is happier, no one is prouder to put this birth certificate matter to rest than The Donald, and that's because he can finally get back to focusing on the issues that matter. Like, did we fake the moon landing? What really happened in Roswell? And where are Biggie and Tupac?
Then went on to talk about how Trump would handle a White House, which I find particularly eerie listening to in the present day. He said,
Say what you will about Mr. Trump, he certainly would bring some change to the White House. All kidding aside, obviously we know about your credentials and breadth of experience. For example—seriously—in an episode of Celebrity Apprentice, at the steak house, the men's cooking team did not impress the judges from Omaha Steaks. And there was a lot of blame to go around. But you, Mr. Trump, recognized that the real problem was a lack of leadership. And so ultimately you didn't blame Lil Jon or Meatloaf. You fired Gary Busey. And these are the kinds of decisions that would keep me up at night.
Look how much fun Obama seems to be having up there! Trump is really missing out on an opportunity to sit back and have a little fun. Forget the politics, aren't you dying to know what a "funny" Trump speech would look like? I know I am.