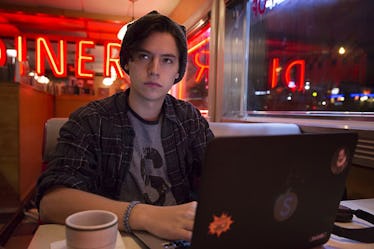 Attention River Vixens: 'Riverdale' Isn't On This Week & Here's Why
The CW
If you're anything like me, then you've been waiting for weeks to find out who is behind the Black Hood on Riverdale. Well, unfortunately, you'll have to wait at least one more week to find out who's causing all the drama, because Riverdale is taking a holiday break this week. That's right, thanks to those pesky pilgrims, Riverdale will not air a new episode on Wednesday, Nov. 22, and we'll all be left waiting in anticipation to find out what is in store for the inhabitants of our fave small town.
On a side note: Is it just me, or do masked attackers not just take a break for Thanksgiving? I mean, I'm no expert, but I seriously doubt the Black Hood is taking the night off from shooting at teenagers and crank calling Betty to ~enjoy~ his aunt's overcooked turkey and canned cranberry sauce, am I right?
That unrealistic storyline aside, sh*t has been hitting the fan in Riverdale and I, for one, am desperate to see what happens next. Luckily, the show isn't ready for its long winter break just yet — indeed, Riverdale still has two episodes set to air on November 29 and December 6 — so hopefully we'll get a bit more info. on the Black Hood before the show breaks for the holidays and returns in January.
While we wait for Riverdale to come back from its mini-Thanksgiving hiatus, though, it seems like the perfect time to catch up on what the hell has been going down since Season 2 premiered early in October.
Of course, things have been a little tense since we picked up where we left off last season with Fred Andrews' shooting. Since then, we've seen Ms. Grundy get murdered, Midge and Moose get attacked in the woods, and Betty get harassed, all by some mysterious figure known only as the Black Hood. The maniac says their purpose is to rid Riverdale of its hypocrisy, but they're definitely using some pretty terrifying methods to do so.
On top of that mystery that seems to have the whole town wrapped up in its claws, things are getting crazy on the South Side where everyone's favorite introvert Jughead has seemingly lost his damn mind and joined the Serpents. Thanks to Betty's work with the Black Hood, Bughead is no more, and there's a new girl in Jughead's life — a fellow Serpent, Toni Topaz — so who knows what's going on there.
Speaking of new characters, we've also met Veronica's sketchy-ass father, Hiram, this season and, though he hasn't done much to concern us ~yet~, something about his attitude lets us know we're in for some shocks with him later on.
The last major event we witnessed was the arrest of Jughead's English teacher, Mr. Phillips, aka the Sugar Man — Riverdale's resident Jingle Jangle supplier. As for whether or not we're in for more JJ this season, I guess we'll have to wait at least one more week to find out.
None of this crazy suspense is surprising, though. Indeed, we were told this season Riverdale was going to get crazy. The show's creator, Roberto Aguirre-Sacasa spoke with Variety recently about the thrilling nature of the second season, saying, "It's going to be less of a murder-mystery this season, and more of a suspenseful thriller type of show." The EP continued by saying,
The stakes for more of the characters are going to actually be life and death. Archie [KJ Apa] is a really good barometer for the entire show. Because of what happened with Fred in the finale – because he saw his father get shot in Pop's – he's on a darker journey. He's at the heart of the show and is the show's moral compass in a weird way. By virtue of the fact that Archie is on a darker journey, the show itself is also on a darker journey.
Based on what we've seen so far from these never overdramatic teens (*eye roll*) and their parents, Aguirre-Sacasa wasn't lying. I can only imagine the suspense in store for us during the next two episodes before Riverdale's winter break.
Check out the entire Gen Why series and other videos on Facebook and the Bustle app across Apple TV, Roku, and Amazon Fire TV.