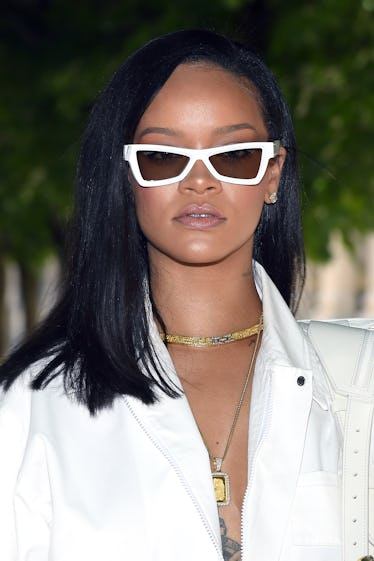 Here's Why You Probably Won't See Rihanna At This Year's VMAs
Pascal Le Segretain/Getty Images Entertainment/Getty Images
The music industry's biggest night of the year is finally here, which means artists are pouring into Radio City Music Hall for the 2018 MTV Video Music Awards. The show will honor various musicians for the work they've done within the past year and feature performances by Nicki Minaj, Ariana Grande, Shawn Mendes, Logic, Travis Scott, Post Malone, and Panic! At the Disco. Right now, I'm sure you're probably searching for your favorite artist at the event, which might lead to one important question: Is Rihanna at the 2018 MTV VMAs? By the looks of it, she's not.
Apparently, Rihanna was in Barbados the night before the VMAs at a wedding for her best friend, Dr. Sonita Alexander, per TMZ. On top of that, the singer posted an Instagram Story hours before the VMAs pre-show with the caption, "sleepy af." Based off her fatigue (and her surroundings in the video), it's safe to assume she won't be at the VMAs on Aug. 20.
As far as music goes, Rihanna has been (kind of) laying low. The singer hasn't released an album since Anti in 2016, but that doesn't mean she hasn't been busy working on collaborations. In fact, she released the song "Lemon" with N.E.R.D in 2017, which landed her two nominations at the 2018 VMAs. Both Rihanna and N.E.R.D were nominated for Best Collaboration and Best Editing, which means she's still taking the music industry by storm.
TBH, I'm curious to see if Rihanna will release another solo album in the near future.
Either way, the pop star is keeping busy. In fact, she might be working on a freaking movie with Donald Glover, aka Childish Gambino. The two artists have recently been spotted on set in Cuba, where they are supposedly filming a movie called Guava Island. Although no details about the apparent film have been announced yet, Vistar, a Cuban music publication, revealed more information about the project. Apparently, it's being directed by Hiro Murai, who has worked with Glover on multiple occasions. He even directed Glover's Childish Gambino music video for "This Is America." With that being said, I'm excited to find out more information about Guava Island when it's announced.
While I'm on the topic of Childish Gambino, let's talk about all of the awards he's up for at the 2018 VMAs. Aside from his reported role in Guava Island, it's obvious that he's been busy when it comes to his music career. Childish Gambino was nominated for seven awards, and each of them stem from Murai's "This Is America" video. They include Video of the Year, Video with a Message, Best Cinematography, Best Direction, Best Art Direction, Best Choreography, and Best Editing. Again, it's clear that Glover has had his plate full.
Just because Rihanna wasn't nominated for as many awards as Glover doesn't mean that she's not working on music. There's speculation online that Guava Island could actually be a music video, but we'll have to wait and see.
Regardless, it was bummer to not Rihanna at the 2018 VMAs. Between all of the collaborations she's doing, it's obvious that she isn't slowing down. Keep your eyes open for more news about Guava Island, because if it's a music video collaboration between her and Childish Gambino, you know it's going to be good.