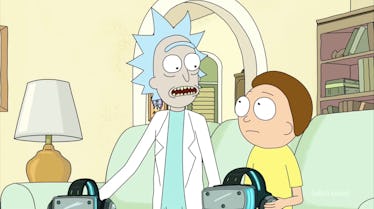 'Rick & Morty' Still Hasn't Been Renewed For Another Season & Fans Are Worried
Cartoon Network
The future may not be bright for one of the most beloved animated series on the air. Over the weekend, Rick & Morty co-creator Dan Harmon broke the news to fans that although the show concluded its third season nearly half a year ago, the animated series has yet to be picked up for a fourth season by Cartoon Network. Of course, this has fans worried about the same thing: Is Rick & Morty Season 4 going to happen or is Cartoon Network killing the cult cartoon series? Harmon isn't exactly inspiring confidence that the show could return.
There has been speculation about the unsure future of Rick & Morty for a while now, but now Dan Harmon has taken to Twitter to address the production issues on Season 4 of his show. After a "fan" berated Harmon on Twitter, calling the showrunner a "lazy alcoholic" and accusing him of delaying the writing process for the new season, Harmon responded by revealing that Cartoon Network still has not picked up Rick & Morty for a fourth season yet. Obviously, this is pretty troubling news for fans that have been anticipating more episodes of Rick & Morty, and stirred up more suspicion that the animated series may be getting the ax.
If Cartoon Network does wind up announcing a renewal for Rick & Morty, it would mark the latest that the channel has ever picked up a new season of the show. Cartoon Network announced renewals for Seasons 2 and 3 of Rick & Morty after just a couple of episodes had aired in Seasons 1 and 2, respectively. However, Season 3 of Rick & Morty ended nearly half a year ago, back in October of 2017, and according to Dan Harmon, it still has not been picked up.
Rick & Morty fans have already been pretty agitated about the unsure status of Season 4 for a few months. At the very beginning of 2018, former show writer Ryan Ridley shared that he did not think anyone had been working on a new season of the show at that time, and that if Season 4 did come out, it most likely would not be released until the end of 2019.
The past few seasons of Rick & Morty have followed an erratic airing schedule, with about a year and a half between each of the show's ten-episode seasons. It's also worth noting that Dan Harmon's previous series Community was also a cult beloved show that faced cancellation rumors numerous times over the course of its six seasons. When NBC finally did cancel the sitcom after its fifth season, the short-lived streaming service Yahoo! Screen picked up the sixth season that Community had been promising its fans throughout its run.
If Cartoon Network does decide to cancel Rick & Morty, it would be a pretty confusing move in terms of ratings. The series' fanbase has only continued to grow since the show premiered in 2014, ballooning from cult status to a mainstream pop culture hit. The recently aired third season has achieved the show's highest ratings yet, suggesting that it is still on the upswing in terms of popularity. The show's fanbase has also been getting more public attention recently for the intense lengths they will go for the series — in particular, stories about Rick & Morty fans flooding McDonalds restaurants across the country when the fast food chain released a limited edition Szechuan sauce that was referenced in the show have illustrated how passionate certain fans of the series have gotten.
As of right now, Rick & Morty Season 4 is still in limbo. But now that Dan Harmon has made this news public, fans can probably expect Cartoon Network to make a final decision pretty soon... whether that will be good or bad news is still unclear.