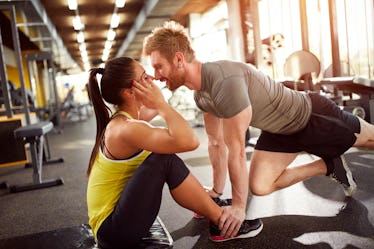 Here's Why Post-Workout Sex Can Be So Freaking Amazing
Do you ever find yourself feel extra horny after hitting the gym? That may sound strange, particularly after putting your all into breaking a sweat during your workout. But it can be hard to resist a little extra physical activity when getting it on after working out feels so freaking good. But, is post-workout sex better than normal sex, or is it all mental? Turns out, it's a little bit of both.
According to sex experts, if you feel like post-workout sex is better, you're not wrong. "Exercise has many benefits that bring an advantage to your sex life," sex expert and Good For Her founder, Carlyle Jansen, tells Elite Daily. But what is it about hitting the gym that makes sex so much better? The experts explain that some of the reasons post-workout sex can be especially hot has to do with how exercise affects you mentally, in terms of how you it makes you feel about yourself and your body. In addition to that, the experts say there are also physiological and neurological reasons why working out boosts sexual satisfaction. So, if you find yourself wanting to get hot and sweaty after you, get, well, hot and sweaty, you're not alone. Here's why sex after a workout feels oh-so-good.