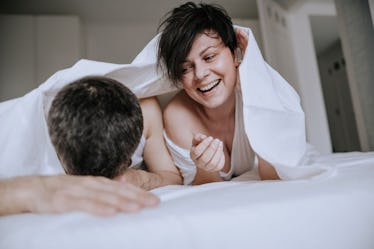 Sexperts & Personal Trainers Alike Say These 5 Workouts Can Seriously Boost Your Libido
The libido can sometimes be a bit of a mystery. While some people experience zero issues ~getting in the mood~, others find their sex drive to be a fickle friend, one that either cancels on them last-minute, or doesn't show up at all. You'd think arousal would be as simple as addition — genitals, plus attraction, equals go time — but it's just not. There are lots of details that can factor into your sex drive, such as the foods you eat, how much caffeine you chug, perhaps your sleep schedule. There are even exercises that can boost your libido. Now how's that for incentive to get to the gym?
Working out is often associated with aesthetics, but there's so much more to exercising than physical transformations. Getting your blood pumping and testing all the ways your muscles and limbs work together to run faster, or lift heavier, is a confidence boost like no other, and when you feel good in your body, says Sam Tooley, owner of and personal trainer at Alpha Performance Studio, you'll feel even better in bed.
"From feeling physically fit, to being more comfortable with our appearance, all of the above will help build our confidence," which, Tooley tells Elite Daily, can play a huge role in the confidence you bring to your sex life. From a physiological perspective, he adds, endorphins, aka the feel-good chemicals released by the brain when you exercise, lower your stress hormones, thus adding to the confidence and drive to have sex.
So which exercises are the best for boosting your libido? Here are a few that experts in the space recommend.