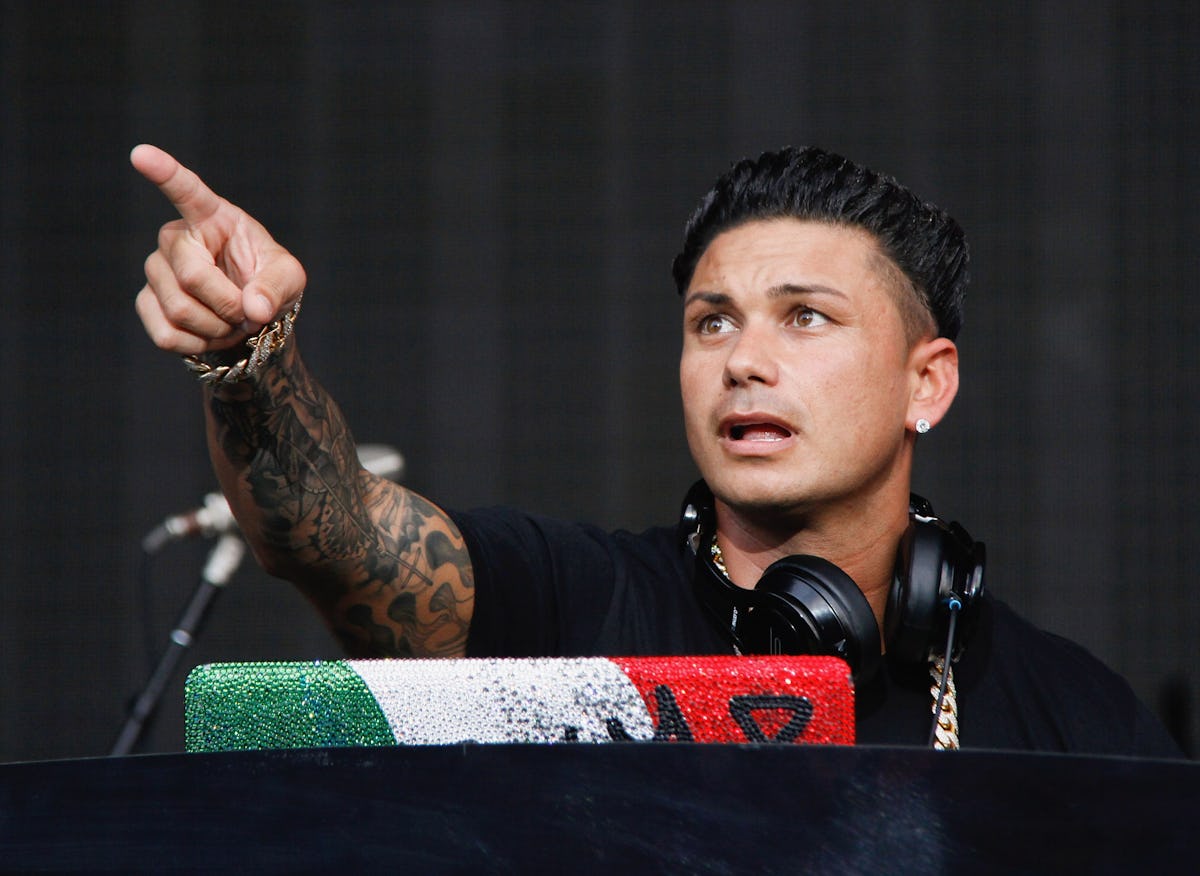 Everything You Should Know About DJ Pauly D's Current Love Life
Janette Pellegrini/Getty Images Entertainment/Getty Images
A certain fresh-to-death Jersey Shore DJ is returning to MTV for the recently announced upcoming Jersey Shore Family Vacation, so get ready for more hair gel and T-shirt time. Fan fave Pauly DelVecchio came into our lives back in 2009 and America fell in love with his adorably wide smile, unique way with words ("You stalked my whole entire life!"), and just general enthusiastic attitude. Since then, he's gone on to make a name for himself through more reality TV and a successful DJ-ing career, but what about his love life? Is Pauly D from Jersey Shore single? Here's the situation. (You see what we just did there.)
Pauly was Seaside Heights' resident ladies man when he appeared on Jersey Shore. Who could resist that sky high 'do, the lighthearted humor, and those sick jams? The DJ had his fair share of hook-ups throughout the show's six seasons, and while many of his cast members have settled down, right now he appears to be off the market. Single and ready to mingle, perhaps? The star recently broke things off with Danity Kane singer Aubrey O'Day after dating for over a year. There, there, Pauly. We're sure there are plenty of women out there who are after your fist-pumpin' heart.
Pauly and Aubrey's public romance had reality TV beginnings, as the pair met on E!'s Famously Single back in 2016. E! News confirmed their split this past summer. It appeared they were headed towards the next step in their relationship just a month prior — Aubrey wasn't shy about the fact that she had marriage on the brain. "Well, I want a ring like ASAP!" she told E!, revealing that she was definitely ready to settle down with her DJ beau. She added,
I think I put enough pressure for that to be going down sooner not later. I'm looking for something serious and I'm ready to move to the next chapter in my life where I'm a wife and a mom and to experience other things than what I've been doing my entire career. He knows that and we made sure that's the page we were both on in the beginning.
"She's the one for me, so I'm looking forward to the next steps and waiting for the right moment to make all that happen," Pauly D chimed in.
Aww. The former lovebirds did indeed break up and make up in the past, but perhaps this time their split is for good.
In addition to his upcoming return to TV, Pauly D's DJ career is going strong. The Rhode Island native has been working steadily since he skyrocketed to reality fame in 2009. Pauly took up Las Vegas residency at the Hard Rock in 2016 and continues to get major club gigs from NJ to LA. You may recall he opened for a Ms. Britney Spears back in 2011 on her Femme Fatale tour. Not too shabby. Fans might also remember his short-lived MTV spinoff, The Pauly D Project.
In addition to his career success, Pauly became a dad to daughter Amabella in 2013. The child's mother, Amanda Markert, is a former waitress he met in Las Vegas in 2012. He told TooFab in 2016 that his mother and his daughter were "the two main women" in his life.
In 2012, Pauly opened up to OK! about the type of woman he's interested in. "Just a genuine person. Loyalty I'm a big fan of. I love family values and stuff like that. They have to be a good cook. That's how to find now days," he explained. You hear that, ladies?
We're looking forward to seeing Pauly D back in action when Jersey Shore Family Vacation premieres next year. Oh yeah, indeed.