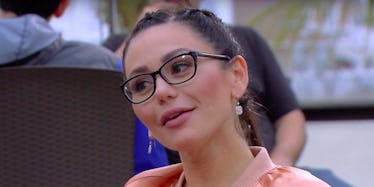 JWoww Reveals If She'd Sleep With Pauly D. Again In New 'Jersey Shore' Reunion Clip
E!
CABS ARE HEAAAA! Just kidding, but the Jersey Shore cast is here, back and better than ever. Snooki, Pauly D., Mike, JWoww, and Sammi Sweetheart are coming back together in a new E! special, Reunion Road Trip: Return To The Jersey Shore and we finally get to indulge in some GTL and too much hair gel again. In a video from the Jersey Shore reunion, the cast is reminiscing about the good times in the shore house.
At the beginning of the clip, JWoww asks Pauly D. and Mike if they got bored of "all the ass they got" while filming the show. No offense to the women or the members of the show, but it isn't hard to forget how the shore house sometimes felt like a brothel. Mike answered, saying, "You get tired of that one night and the multiple womens or the threesomes or the foursomes or whatever." HOW MANY WOMENS, MIKE?!
Pauly also talks about these one-night hookups, saying, "They filmed 24/7 so all the hookups were on tape ... It was insane! ... I wonder what they do with that footage, I want it." LOL, I'm sure you do, Pauly.
After this, the conversation turns to the hookups that happened between the actual cast. Where do we start... Sammi and Mike, Mike and Snooki, JWoww and Pauly D., Snooki and Vinny, Sammi and Ron. The list goes on.
Snooki asks JWoww, "Jenni, would you still f*ck Pauly?" Now, for those of you who haven't kept up with the cast since the show went off the air, JWoww is married to Roger and they have two kids together. Awkward!
Pauly was quick to say, "Roger would kill me! Roger would beat me up." The entire table literally had this look of shock wash across their face, but JWoww played it off and wasted no time throwing it right back at Snooki. She said,
Would you still f*ck Mike?!
LOL. I can't wait to watch this entire special and probably play it on repeat. It airs at 9:30 p.m. ET on Sunday, Aug. 20, on E!
But seriously, can we get a full new season, please? TYSM.