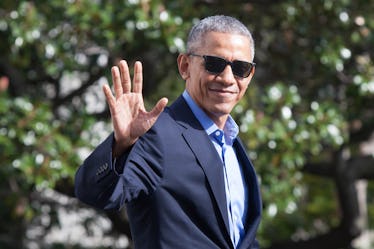 Obama Is Campaigning For The First Time Since Leaving The White House, Here's Why
Zach Gibson/Getty Images News/Getty Images
For the first time since leaving the White House in January, former President Barack Obama is hitting the campaign trail again. On Thursday, Oct. 19, the 44th President of the United States will travel to support two Democratic candidates for state governorship in the only states that are holding gubernatorial races this November. The first of Obama's stops will be in Newark, New Jersey's largest city.
There, the former president will appear with Phil Murphy, who aims to succeed New Jersey's current governor, and former candidate for the Republican nomination for president, Chris Christie, who has hit record lows in his approval rating this year. Murphy is running against Christie's lieutenant governor, Kim Guadagno. Despite a comfortable, double-digit lead in polls that has hovered around the teens for weeks, a high-profile cast of Democrats has still flooded into the Garden State to ensure victory for the Democratic candidate.
Obama's scheduled appearance at Newark's Robert Treat Hotel on Thursday has been preceded by visits from other high profile Democrats like Vice President Joe Biden, former Secretary of State John Kerry, and former Secretary of Labor Tom Perez (who now serves as chair of the Democratic National Committee). Former Vice President Al Gore also campaigned for Murphy. Biden argued that electing Murphy would help, in part, preserve the Obama administration's legacy. During a rally last week, Biden said,
Here's the deal, that mandate is going to fall on the governors. You saw when he [President Donald Trump] walked out of the Paris accord. It was the governors led by [California Gov.] Jerry Brown and others — it was the mayors who said we are not going to go back.
The second of Obama's stops will be at a rally in Richmond, Virginia. There, the former president will campaign for current Virginia Lt. Gov. Ralph Northam. The 58-year-old Northam has been leading most polls for the state's governorship, but only by a steadily slimming lead.
One voter attending the rally said he's motivated be engaged with the state election by current events in Washington D.C., telling the Richmond Times-Dispatch,
With the current events, I want to right a wrong. I'm actually terrified for the next four years. Whatever we can do to swing the tide in the other direction.
Both former President Obama and former Vice President Biden will look to help Northam seal a victory, with Biden scheduled to campaign for the lieutenant governor during the upcoming weekend, which would be the former VP's second time campaigning for the Democratic candidate.
Obama and Biden won Virginia's electoral votes during the 2008 and 2012 presidential campaigns. Former Secretary of State Hillary Clinton did the same in 2016. However, Democrats are still nervous about the race, Politico reports. Former Congressman Tom Perriello, who lost the Virginia's Democratic primary against the eventual winner, Northam, told Politico,
People's anxiety comes from the fact that the Democratic coalition doesn't always show up in these off-year elections, and there's an erosion of confidence in polling.
On the other side of the race in Virginia is Republican Ed Gillespie, who has been endorsed by Trump, but has still been distancing himself from the president. Meanwhile, there are doubts that having Trump campaign for Gillespie would even be a good idea. Former Virginia Attorney General Ken Cuccinelli, a Republican, told the New York Times,
Having watched what a great job he did for Luther Strange, I'm not sure I'd want that. Trump rallies are about Trump.
While campaigning for Strange, a former candidate for the Republican nomination for a Senate seat in Alabama, President Trump ended up sparking a feud with the NFL.
Both Virginia and New Jersey's gubernatorial races will be held on Nov. 7.