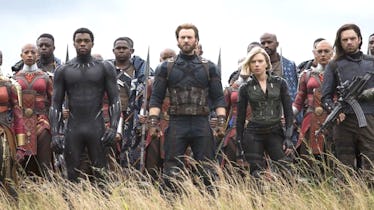 All 'Avengers' Fans Have This Major Character Question On Their Minds
Marvel
Avengers: Infinity War promises to bring back essentially every Marvel superhero introduced in the past decade, and given how Marvel Studios especially loves its surprises, we could be in store for unlikely cameos from minor characters seen in past films. However, a key character from one of the Avengers' original movies has already been a little absent from the franchise, suggesting that she may not play a role in the mega-sized sequel or the 2019 Avengers grand finale. Thor's Jane Foster didn't appear in the second film focused on the Asgard god, which debuted last year, and fans have wondered if this absence means that actress Natalie Portman won't show up in Infinity War either. With just over a week until the anticipated film hits theaters, we have to ask: Is Natalie Portman in Avengers: Infinity War?
When she was first introduced in 2011's Thor, astrophysicist Jane struck up a romance with Thor, but it was cut short when Thor and other Asgardians had to chase after villain Loki. As the film ended, Jane and her team were trying to open a portal to Asgard, which they eventually came across in the 2013 sequel Thor: The Dark World. After being teleported to another world, Jane reunited with Thor, but because she had gotten infected with the weapon Aether, her visit to Thor's hometown didn't exactly go swimmingly.
Of course, in true superhero fashion, Thor and Jane were able to defeat their enemies in The Dark World, but when Thor: Ragnarok premiered last year, it was revealed that Thor and an unseen Jane had broken up. She was also mentioned in Avengers: Age of Ultron for being a fierce scientist, but the cinematic world of Marvel has done little more with Jane since her last franchise appearance.
As of now, there's no confirmation of Portman reprising her role in Infinity War, but never say never. In a 2016 interview with the Wall Street Journal, Portman hinted that she had completely finished working for the franchise and wasn't in the loop about any future appearances:
As far as I know, I'm done. I don't know if one day they'll ask for an Avengers 7 or whatever, I have no idea, but as far as I know, I'm done. But it was all a great thing to be a part of.
Earlier this year, with news of Infinity War solidified, Portman also played it vague, telling Screen Rant about the chances of a return to the Marvel Cinematic Universe:
I'm completely open to everything, but I have no news about that.
While Portman is staying tight-lipped, the Marvel comics include clarity on Jane's fate that the movies could explore if Chris Hemsworth steps down as Thor after his Marvel contract ends. According to HuffPost, Marvel Comics revealed Jane as the face behind the Goddess of Thunder in 2015, suggesting that, if Portman was interested, the Thor films could go in an entirely different direction. It wouldn't be the only time a "replacement" of sorts joins the Avengers — Marvel is expected to introduce a new Captain America after Chris Evans' contract also ends after the 2019 Avengers film.
Portman seeming a little indifferent about her involvement in Infinity War could have also stemmed from some behind-the-scenes drama. Wonder Woman director Patty Jenkins was originally going to direct the Thor sequel, but she was fired, reportedly to Portman's dismay. The actress stayed on for The Dark World to fulfill her contract, but allegedly wasn't thrilled with the directorial change.
With all of these factors put together, it looks like Jane Foster won't show up to steal away Thor's heart in Infinity War. Then again, it does look like the Avengers will be a little too busy trying to save the world to get tied up in romance.
Avenger: Infinity War hits theaters on Friday, April 27.