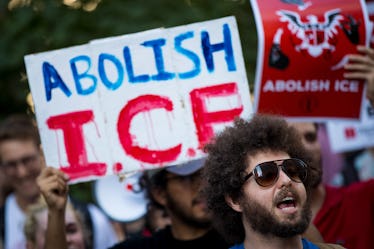 Your College Might Have A Contract With ICE, & Here's What To Know
Drew Angerer/Getty Images News/Getty Images
Considering all the talk about the "zero tolerance" immigration policy recently, you may already be well aware of all the drama going on at the United States' southern border. But the issue might be closer to home than you think: there are multiple colleges and universities that have contracts with U.S. Immigration and Customs Enforcement (ICE) that have allowed them to collect millions of dollars from the agency for various purposes. Shocking, right? Now, I bet you're wondering if your college is working with ICE, and if so, you'll certainly want to check out this info.
According to The Hill, there are at least five colleges across the United States that have contracts with the agency, including John Hopkins University, Northeastern University, the University of Alabama at Birmingham, the Vermont State Colleges, and the University of Maryland at College Park. The contracts were reportedly created for the universities to provide a variety of professional and educational training. But since reports of immigrant children separated from their families have been taking over the airwaves, the connections to the immigration agency have been drawing fire.
The agency has faced widespread criticism after its enforcement of President Donald Trump's now-abandoned "zero tolerance" immigration policy, which required the separation of migrant families who crossed into the United States illegally. As adults were sent through the criminal justice system to be prosecuted for illegal entry, the children, some as young as babies, were treated as unaccompanied minors and put through a separate system. Before Trump ended the separation of families in late June, than 2,000 children were separated from their families. While many families have since been reunited, many have not. As of July 24, the Trump administration said that there were more than 450 parents who may have been deported without their children.
So as tensions over these immigration policies heighten, some of the colleges are being pressured by students, staff and human rights advocates to cut ties with ICE, according to Inside Higher Ed.
According to The Hill, John Hopkins University is one of the schools facing said demands. A petition created by an associate professor at John Hopkins, Drew Daniels, cited the organization's "brutal policy of raids, deportations and family separations of immigrants, some of whom are apprehended at the border, some of whom have lived peaceably here in our country for decades before being stripped of their rights and ripped from their families and communities." As of July 21, Daniels' petition has more than 1,000 signatures and counting.
While the colleges have drawn fire, the contracts themselves have little to do with the "zero tolerance" policy. John Hopkins, for starters, has reportedly worked with the agency since 2009, and has received around $6.6 million in contracts from ICE since at least 2008 for purposes like education and training services and tactical medical training, according to Inside Higher Ed. A statement from the school shared with the publication said that the school has had partnerships with local, state and federal agencies, including the Department of Homeland Security (DHS) which oversees ICE, to provide workshops and training for more than 20 years. "Johns Hopkins University faculty have longstanding service contracts with federal law enforcement agencies to provide education, training, and medical expertise," it said in part.
Northeastern University was reportedly given a contract worth around $7.8 million to perform research on materials used in weapons of mass destruction that are imported and exported across borders. A spokesperson for the school defended the contract on grounds of academic freedom in a statement to Inside Higher Ed. "Efforts to restrict which federal agencies a faculty member can approach for research funding are antithetical to academic freedom," the statement said in part.
Other schools are working with ICE on issues like preventing drugs from being imported in the country illegally; dealing with work-force training in leadership and financial accounting; and training HAZMAT technicians. The University of Alabama at Birmingham and the Vermont State Colleges both told Inside Higher Ed that the contractual work had already been completed, while a spokesperson for the University of Maryland at College Park told the publication in a statement that the contract was for safety courses in recognizing hazardous material.
Elite Daily reached out to ICE for comment on the contracts and the demands to cancel them, but did not immediately hear back.
Although the schools' contracts don't directly have to do with the immigration policies that ICE helps enforce, that hasn't really stopped people from urging them to put an end to their partnerships with the controversial agency. In fact, some are afraid that the work could still have dangerous consequences, even if it isn't related to immigration.
For example, a petition to Northeastern University is also calling for the school to sever its contract with ICE because its research into weapon trafficking "could just as easily be used to expand mass surveillance of immigrants and communities of color." It adds, "Having any kind of contract with ICE at this moment in history is irresponsible and immoral." The petition is just shy of 3,000 signatures.
Demanding that these school end their contracts with ICE, if applicable, won't ensure that the reunions happen at a faster rate. But it shows that the school's community won't tolerate the practices of the agency and what it stands for. And that's something.