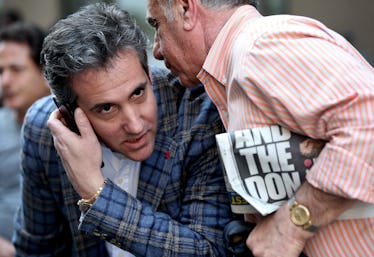 Trump's Lawyer Hasn't Always Been A Republican
Yana Paskova/Getty Images News/Getty Images
Michael Cohen, a former employee of the Trump Organization and the president's personal counsel, has a long history of being a loyal confidant to the president. But is Michael Cohen a Republican? Trump's personal lawyer reportedly voted for Barack Obama in 2008.
In 2011, ABC News reported Trump's "political pit bull," was a registered democrat who had voted for Obama. That report also noted that Cohen once volunteered for 1988 Democratic presidential candidate Michael Dukakis and worked for a Democratic member of Congress. Elite Daily reached out to Cohen's attorney for comment on his political party status over the years, but did not hear back at time of publication.
"I thought it was the greatest thing ever," Cohen told ABC News about Obama's election. "This fantastic orator was going to make a change in this country. He was going to do things that Bush clearly did not do."
Cohen then explained that he later grew frustrated with Obama and his policies. But Cohen stopped short of parroting Trump's birther comments — a somewhat disloyal move for a so-called "loyal" attack dog.
"I am certain that the president was born in Hawaii — I really am," Cohen told ABC News. Cohen also noted that his mission was to always try to resolve things "to Mr. Trump's benefit."
"It means that if somebody does something Mr. Trump doesn't like ... If you do something wrong, I'm going to come at you, grab you by the neck and I'm not going to let you go until I'm finished," Cohen said.
But it wasn't until after the 2016 New York presidential primary that Cohen would register as a Republican — similar to how Trump's children failed to register in time to vote for their father. Cohen in a CNN appearance disclosed that he could not vote in the primary because he was not registered as a Republican.
Cohen's political background is a weird one. Like Trump, he's been a registered Democrat in the past — he didn't register as a Democrat until March 9, 2017, per his Twitter account. But in 2003, Cohen unsuccessfully ran for New York City Council's 4th District as a Republican, per the city's voter's guide. In his statement to voters he wrote,
I'm as concerned as you are about the future of this great city. My career in law and as the owner/operator of a fleet of taxicabs has given me a rich education in the city's greatest resource — its people.
(Oh yeah, he also owns multiple fleets of New York City taxis. He and his wife allegedly owe upwards of $40,000 in unpaid taxes relating to the business, according to a New York Daily News report, citing seven warrants filed by the state Department of Taxation. Elite Daily reached out to Cohen's attorney for comment on this claim, but did not hear back.)
Cohen is in the news again after reports that his hotel room and office were raided by federal agents on April 9, per The New York Times. In response to this report, Cohen's own personal lawyer Stephen Ryan said in a statement shared with The New York Times,
Today the U.S. Attorney's Office for the Southern District of New York executed a series of search warrants and seized the privileged communications between my client, Michael Cohen, and his clients. I have been advised by federal prosecutors that the New York action is, in part, a referral by the Office of Special Counsel, Robert Mueller.
It was later revealed that Cohen is under investigation for financial crimes including alleged bank fraud, alleged wire fraud, and alleged campaign finance violations, relating in part to payments made to Stormy Daniels. Elite Daily has reached out to Cohen's attorney for comment on the investigation, but did not hear back.
Cohen grew up in a predominantly Jewish neighborhood of Lawrence in Long Island, according to The Forward. His father reportedly is a Holocaust survivor. He studied law at Western Michigan University. It wasn't until about 2007, when Cohen bought multiple apartments within Trump-owned properties, that the two began to hit it off. Trump called Cohen a "very smart person" in a February 2007 New York Post article. About three months later, he was hired at The Trump Organization and would later graduate to Trump's personal attorney, according to The Forward.
"Michael Cohen has a great insight into the real-estate market," Trump told the Post. "He has invested in my buildings because he likes to make money — and he does."
Cohen reportedly held an office near Trump Tower in his time at a Manhattan law firm, and is said to have aided Trump in his struggle with the condominium board at the Trump World Tower in 2007, per The New York Times. His consultancy reportedly led Trump to obtaining control of the board.
While Cohen's loyalty to Trump seems clear, his loyalty to the Democratic — or even Republican party — appear to be muddier.