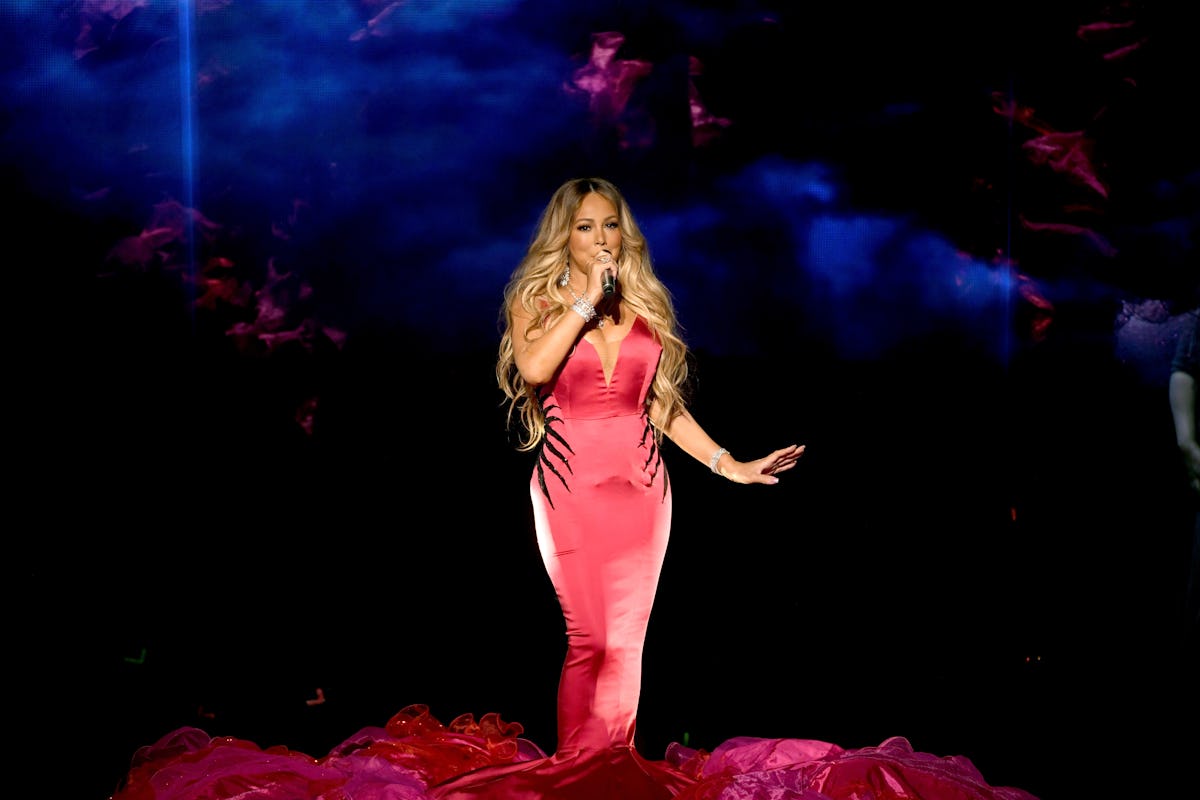 Fans On Twitter Think Mariah Carey Was Lip Syncing At The AMAs
Kevin Winter/Getty Images Entertainment/Getty Images
Once upon a time, there was a 19-year-old vocal powerhouse named Mariah Carey. She stunned the world with her voice, hitting dog whistle notes some didn't know were possible by human voices. But fans were noticing during her performance during the 2018 AMAs that her singing did not quite line up with her vocals. Carey has been noticed to be apparently lip syncing before, such as when she was a judge performing on American Idol. Now fans are wondering: is Mariah Carey lip syncing at the 2018 AMAs? It certainly looked like it. Elite Daily reached out to Carey's team for confirmation on whether she was lip syncing but did not hear back by time of publication.
Mariah has been a fixture on the pop landscape for so long, it's hard to imagine a time without her. Her fans love her and think she can do no wrong. But Carey is also a perfectionist, and the AMAs are a big deal — her return to the American Music Awards stage in quite some time. And it seems to fans like she might have taken out some vocal insurance in the form of a pre-recorded performance to make sure everything went according to plan.
Unsurprisingly, people took to Twitter with a whole lot of opinions on the matter.
And some were less than impressed with her apparent decision.
The fact is, fans don't really know if Mariah was lip syncing. There could be a number of sound issues with the performance. Live television performances are notably dicey. There have been issues at awards shows that range from mics that don't work, to backing tracks that aren't lined up with the performer on stage, to monitors that lag causing the singer to be off from the band.
And then there are the hidden issues that fans at home don't know about. There are some singers who are ordered to lip sync during performances due to myriad sound issues. (Think of the Super Bowl, where the acoustics are so unfriendly to a rock concert the singer has to lip sync because live singing would sound terrible.) So even if Carey was lip syncing, it may have been for a good reason that viewers at home were not award of.
Even if Carey did lip sync tonight, or if she didn't, it doesn't detract from the fact that her new single "With You" was still a stunner of, well, Mariah Carey proportions. And she looked absolutely amazing in a hot pink gown that went on for days and produced men from inside it like a ruffled geese that laid golden eggs.
"With You," which arrived on Oct. 4, is the lead single off of Mariah Carey's upcoming album, which will be arriving closer to her favorite holiday, Christmas. Her current residency at Caesars Palace in Vegas has been extended into 2019 and will now run until at least February, if not longer. Perhaps next year fans will get to see her win a few AMAs for her newest album to add to her every growing tally, which currently stands at 10.